YOU BUY OR SELL, THEY SAIL
You BUY or SELL, They SAIL!
Now the purchase or sale of your home can support Canadian Sailing!
Geared to allow young Canadians to follow their Olympic dream, Sail Canada's "You BUY or SELL, They SAIL" program allows buyers and sellers to indirectly support Canadian performance sailing development. With no added cost to the buyer or seller, participating real estate agents support the program by providing a portion of their commission.
Supports Sail Canada's National Sail Training Centres!
This program connects real estate buyers and sellers with participating real estate agents across Canada. The support commissions earned in the "You BUY or SELL, They SAIL" program ultimately move to support Sail Canada's High-Performance Development system and NextGen sailors at our three National Sail Training Centres in the Pacific, Central, and Atlantic regions.
Following a reference to the "You BUY or SELL, They SAIL" program and the finalization of the purchase or sale of a commercial or residential real estate, the participating real estate agent (both if the two real estate brokers in the transaction take part in the program), will give back approximatively 25% of the participating real estate broker commission.
Ready to buy or sell real estate? Fill out the form at the right of this page to connect with a participating agent and support Canadian Sailing!
Sail Canada's "You BUY or SELL, They SAIL" program is carried out in partnership with Athlete Influencer Inc. (Ai).
Are Real Estate Agents interested in participating?
To contact Chris Cook, founder of Ai: chris@halyardgroup.ca
About Athlete Influencer Inc.
Athlete Influencer Inc. was founded by Chris Cook, a 2008 Olympian, National Sailing Team Veteran, and Past National Team Coach, who is now a real estate agent. The Ai initiative helps athletes and organizations build an audience, engage with their followers, and direct followers to partner businesses. By partnering with Sail Canada, the real estate sports support model can reach new levels by supporting the development of the next generation of Canadian sailing Olympians. By way of this partnership, Chris Cook will recruit and select reputable brokers across Canada to take part in this program.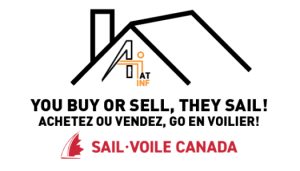 FAQ'S
Q: What kind of real estate applies?
A: All types – Commercial or Residential. Note that this program does not apply to rentals or leases.
Q: Do I have to pay more commission to be part of the program?
A: No. The amount of commission in your realtor agreement is the same as it would be without participating in the program.
Q: Can I direct what the funding supports?
A: Yes. Sail Canada reviews your referral and allocates the support to the National Sail Training Centres of the seller's or buyer's choice.
Q: What is an example of how much support would move to this program?
A:  EXAMPLE: If a home is sold for $600,000, that could mean that close to $3,000 would go to support the development of sailing in Canada, Sail Canada National Sail Training Centres, or another development area as requested by the seller or buyer.