The 2023 Sailing World Championships to be held in The Hague will be the first qualifying event for the 2024 Olympic Games
Kingston, September 14, 2022 ‰ÛÒ A total of 10 Canadian sailors will be able to gain more knowledge and experience in the water ahead of the 2023 Sailing World Championships in The Hague, in the Netherlands, as they will take part in test events for that competition in upcoming weeks.
The 2023 Sailing World Championships will be the first opportunity for all countries to start to qualify spots for the 2024 Olympic Games.
The first test event will be held September 16-18 and will be for the ILCA classes. Canada will be represented by Sarah Douglas in ILCA 6 while Fillah Karim will take part in the ILCA 7 races.
‰ÛÏI'm looking forward to getting back to competing this fall,‰Û said Sarah Douglas. ‰ÛÏThe test event will be a good lead-up event to the 2022 ILCA 6 Women‰Ûªs World Championships this October as well as a chance to spend more time at the 2023 World Championships venue as this competition will be the first opportunity to qualify Canada for the 2024 Olympics in Paris.‰Û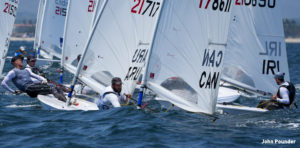 ‰ÛÏI‰Ûªm really looking forward to this upcoming test event in The Hague,‰Û added Fillah Karim. ‰ÛÏWith the 2023 World Championships at this venue being the first and biggest opportunity to qualify Canada for an Olympic spot, getting to build some local knowledge and comfort in these waters will be super valuable. This venue has a lot of restrictions around access, so this could very possibly be the only opportunity that we get to practice on these waters before the event next year. We are going in with the mentality to learn as much as possible and also to look to identify any key areas that we will need to work on over the coming years to excel at the World Championships.‰Û
49er and 49erFX: September 30 to October 2
Two weeks later, September 30 to October 2, the 49er and 49erFX classes will be in action and Canada will be represented by eight athletes: the teams comprised of Ali ten Hove and Mariah Millen as well as Antonia and Georgia Lewin-LaFrance in 49erFX, in addition to Will Jones and Evan DePaul as well as Arie Moffat and Sam Bonin in 49er. Ten Hove and Millen, as well as Jones and DePaul, represented Canada at the Tokyo 2020 Olympic Games.
More info is available through Sail Canada's website at www.sailing.ca.
About Sail Canada
Established in 1931, Sail Canada is the national governing body for the sport of sailing in the country. Sail Canada is a leading international sailing nation, proud of its world class athletes, lifelong participants and inclusive culture. The organization and its members are committed to excellence by developing and training its leaders, athletes, sailors, instructors, coaches and officials. With the valued support from our partners, the Provincial Sailing Associations and our member clubs, schools, organizations and stakeholders, sailing is promoted in all its forms. By setting standards and delivering programs from home pond to podium for Canadians of all ages and abilities, from dinghies to keelboats, cruising to navigation, windsurfing to powerboating and accessible sailing, Sail Canada sets sail for all, sail to win and sail for life.
A sport in the Olympic program since the first Games in 1896, except in 1904, the pursuit of success in these Games is what fuels the focus of Sail Canada as Canadian athletes have so far achieved nine Olympic and five Paralympic medals.