Two-time Olympian in sailing for Canada Tom Ramshaw is celebrating his 30th birthday today. "On Deck" conversation with the athlete from Ontario.
Happy birthday Tom! How will you celebrate your 30th birthday?
I'm staying in Puerto Vallarta, Mexico, for the winter. So for my birthday, I have a bunch of friends coming down to visit for the weekend, and we‰Ûªll just hang out and do some surfing. Should be fun!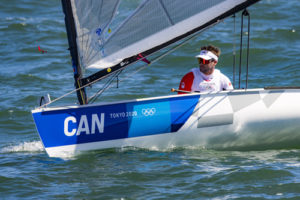 In Tokyo, you finished 10th overall, after taking part in the Medal Race. How would you rate your performance?
I wasn't super happy with finishing 10th. But after having such a slow start to the regatta, I was very happy to put some good results together at the end to take some spots back and qualify for the medal race. My goal as a whole was to do everything in my power through my entire campaign to get a good result in Tokyo, and I can confidently say I did that. There were a ton of major obstacles I had to overcome through the whole journey and I always did the best I could at the time.
Except for COVID-19, what were the main differences between your participation at the 2016 Olympic Games and Tokyo?
Having spent five more years in the Finn and knowing more of what to expect coming into the Olympics for the second time, I was definitely more prepared for Tokyo than I was for Rio. I was there more to compete for a good result rather than just looking to experience the Olympics overall.
Tokyo also marked the last time the Finn class will be at the Olympic Games. What are your feelings on this?
It's definitely sad because it's such a great boat to race, but I understand the decision because with the development there is in sailing, they need to make room for newer classes. But this is for the most part out of my control, so all I can do as an athlete is adapt and take on other opportunities.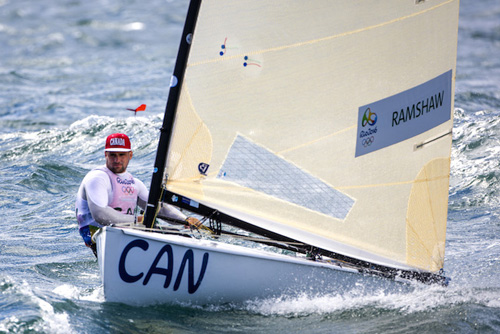 What have you been doing since you‰Ûªve come back from Tokyo?
I spent some time in Toronto and at my cottage relaxing and hanging out with friends and family. Other than that, I‰Ûªve just been Wing Foiling and sailing a bit while planning for some other new projects.
You also took part in a training camp with the Canadian team ahead of the SSL Gold Cup 2022. Could you give us more details on this competition?
I spent a week in Switzerland training on the RC44 with the rest of the Canadian Team. The competition is a round-robin format with fleets of four in modified RC44s so the boats are all identical. The idea is to build a sailing event that brings in the best sailors from each nation in all classes to compete in one big regatta. I think it's a pretty cool new concept that could work really well.
Will you be taking part in that competition?
I would love to take part but the dates aren't confirmed and I'm juggling a couple of other sailing projects. So we will see if I can make it work.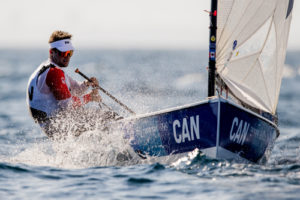 Since there will no longer be a Finn class at the Olympic Games, what is your plan going into Paris 2024?
I have decided to get back into the Laser for the next few months to work toward the World Championships in 2022. If I can progress the way I hope and enjoy the sailing, then I will continue toward Paris 2024. If not, there are lots of other opportunities in the sailing world outside of the Olympics that I can consider.
What's coming up in the near future for Tom Ramshaw?
I‰Ûªm just enjoying life in Mexico, which consists mostly of Wing Foiling, surfing and training. Then, in December, I'm heading to Los Angeles to do some GC32 sailing.