Terry McLaughlin was inducted into the Canadian Sailing Hall of Fame on October 3rd, 2021, after he won a silver medal at the 1984 Olympic Games in the Flying Dutchman class with Evert Bastet. ‰ÛÏOn Deck‰Û discussion with the sailor from Ontario.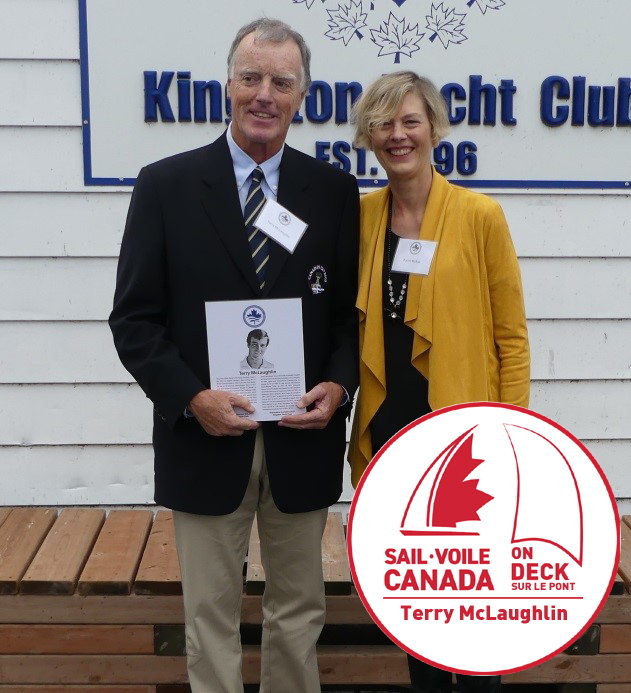 Sail Canada ‰ÛÏOn Deck‰Û:
You won the silver medal in the Flying Dutchman class at the 1984 Olympic Games. How did you feel when you realized you were going to be on the podium?
Terry McLaughlin: As far as I remember, it felt really good. We knew before the last race that we would finish no worse than second in the regatta. In the last race, we were called for being over early at the start and we had to return to the starting line. We were quite sure that we were not over early because we didn‰Ûªt really have a great start and all of the boats looked the same with white hulls and Musto jibs. Anyhow, we protested to the race committee, but our helicopter footage evidence was not clear enough to win the protest. Therefore, for a while after the protest hearing, I had mixed feelings of disappointment and joy.
Sail Canada ‰ÛÏOn Deck‰Û:
You won this medal with Evert Bastet. What do you remember the most about him?
Terry McLaughlin: Evert is possibly the best crew that Canada ever produced. He was very good with crew work, fixing things and he had a very good, even-keel mental approach.
Sail Canada ‰ÛÏOn Deck‰Û:
Except for the medal, what is your fondest memory from the 1984 Olympic Games?
Terry McLaughlin: I chose not to live at the sailors‰Ûª athletes village in Long Beach, California. After being gold medal favourites for the 1980 Olympics in the Flying Dutchman class, but unable to participate due to Canada‰Ûªs boycott of the Games, I wanted to do everything possible to make sure that I didn‰Ûªt make the same mistakes that some athletes do at their first Olympic Games. Part of that plan was to stay very focused. We trained for a month at a site away from the Olympic site and moved the boat to the Olympic site at the last possible moment, just in time for boat measurement. We were lucky that we had a friend who had a house on a Long Beach canal, where we stayed during the training period, and I decided to stay there during the Games. In the house was my father Paul, my stepmother Olga, my sister Tory and my wife-to-be Mickey. It was nice to share the experience with family members.
Sail Canada ‰ÛÏOn Deck‰Û:
What was your greatest challenge leading up to the 1984 Olympic Games?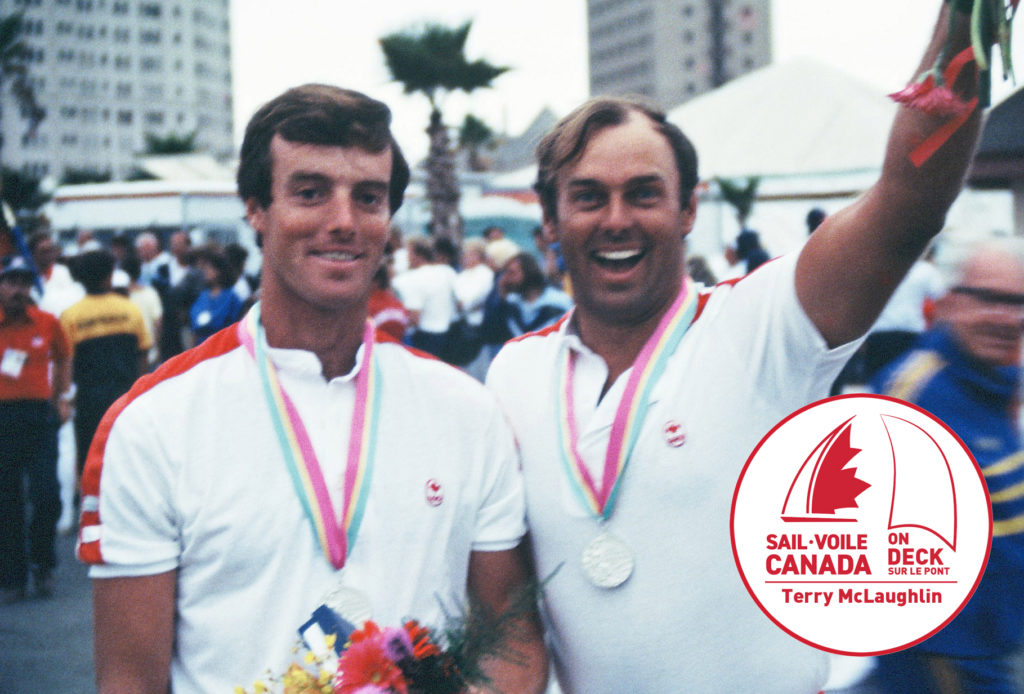 Terry McLaughlin: Evert and I were best prepared for the 1980 Games. I was then just out of university and had the time to put into the campaign. We had a new, fast Flying Dutchman and won three of four regattas in Europe in 1980 leading up to the Games, including the World Championships a month before the Games, which we won with a race to spare.
For 1984, it was different. I spent most of 1982 and 1983 sailing 12 Metres for the 1983 America‰Ûªs Cup trials. Evert joined me for the 1983 portion of 12 Metre sailing. In early 1984, I was in Europe for some Flying Dutchman regattas, some of which Evert couldn‰Ûªt make it to because of work. John Millen and I finished 12th in the Flying Dutchman Worlds in May of 1984 in La Rochelle, France.
A new ‰Û÷raked rig‰Ûª development had come into the Flying Dutchman class and we were slow to adapt to it. In fact, the Olympics was the first regatta in which we did use the ‰Û÷raked rig‰Ûª, which was faster when the wind came up than the traditional, more straight-up mast. We were also slow on the reaching downwind legs in Europe for some reason.
During our training in Long Beach before the Games, we became comfortable with the ‰Û÷raked rig‰Ûª and worked hard on our reaching with the help of coaching by Jeff Boyd. Our training partners were Canadians Duncan Lewis and Ian Struthers, who had come in second at the Olympic trials. Both teams were sailing 1983 Mader German-built Flying Dutchmans. We kept swapping boats in training and found that whoever sailed Duncan and Ian‰Ûªs boat was faster on the reaching legs. It was strange as the boats should have been identical, but we proved our thesis beyond any doubt. So we did what I never thought that I would do, and decided to sail their boat in the Games, and we were more than competitive on the reaching legs in the regatta.
Sail Canada ‰ÛÏOn Deck‰Û:
You were named to the 1980 Olympic team, but were not able to compete because of the Canadian boycott. How did you feel about that?
Terry McLaughlin: The 1980 boycott was very tough on us. As mentioned above, the timing would have been perfect for us. We were sailing very well and had a fast boat. I tried to justify the boycott politically for a while, but when I learned that Canada‰Ûªs wheat sales to Russia doubled that year, I knew that boycott was just a useless political move that hurt no one but the athletes. At least we got another crack at it in 1984. Some of our 1980 teammates never got another chance.
Sail Canada ‰ÛÏOn Deck‰Û:
Your brother Frank also took part in the 1984 Olympic Games in the Two-Person Dinghy. How special was it to be at the Olympic Games with your brother?
Terry McLaughlin: It was nice to be on the same Olympic team with Frank and, also, to have our father there who sailed in the 1948 and 1952 Games for Canada. But because I didn‰Ûªt stay in the Olympic village, I didn‰Ûªt see that much of Frank.
Sail Canada ‰ÛÏOn Deck‰Û:
Your father Paul was also an Olympian in sailing at London 1948 and Helsinki 1952. What impact did he have on your sailing career?
Terry McLaughlin: Both my father Paul and my mother Mary, who was a very good sailor in her own right, were the reason that I got into sailing. All they did was expose me to the sport, they never pushed me at all. We lived on Toronto Island in the summers and early on, we had a wooden pram that myself and my siblings would sail in the lagoon and out at the harbour. When I turned 10 years old, I would hop on my bicycle and ride over to the RCYC junior club. I sailed with my father in the International 14‰Ûª Dinghy a bit, including a windy CORK early on. He was not a yeller in the boat, but he did have persuasive, gentle elbows when it was time for me to get out on the trapeze.
Sail Canada ‰ÛÏOn Deck‰Û: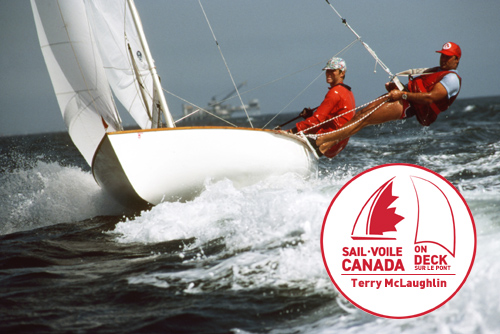 What did you do following your career as an international athlete?
Terry McLaughlin: I have done a few things workwise in my life. I spent a number of years as an institutional bond salesman and then worked for a period of time with my cousin Paul David Phelan.
Sail Canada ‰ÛÏOn Deck‰Û:
What do you do now?
Terry McLaughlin: For the last 15 years, I have imported and distributed Dubarry of Ireland footwear, clothing and leather goods.
Sail Canada ‰ÛÏOn Deck‰Û:
You took part in the Canada‰Ûªs Cup and the New York Yacht Club Invitational Cup competitions with some crew members, including the young Mariah Millen. What are your impressions on that?
Terry McLaughlin: I used to race keelboats with people closer to my own age, but lately I have been adding younger members. Mariah first sailed with me at the 2019 Rolex NYYC Invitational Cup and I must say that, at first, she was a bit of a fish out of water. She was a quick learner though and took to keelboat racing very well.
Sail Canada ‰ÛÏOn Deck‰Û:
What do you think of today‰Ûªs generation of high performance sailors in Canada?
Terry McLaughlin: I don‰Ûªt really know a lot about today‰Ûªs high performance sailors. To tell you the truth, I am glad in my era we had boats like the Flying Dutchman, Star and 470, at a time where kinetics were not a large part of winning.