Sylvain Marcel is an actor who has appeared in several French-language TV shows, movies and ads in the province of Quebec and who started sailing in his spare time a few years ago. ‰ÛÏOn Deck‰Û discussion with the actor from Quebec.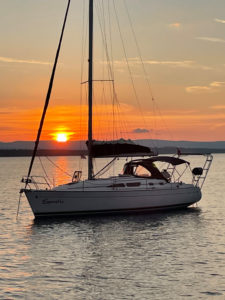 When exactly did you start sailing?
In 2010 officially, but a friend introduced me to the Bombardier 16‰Ûª in the 1990s.
Where did this interest in sailing come from?
I find it to be the most amazing way to travel around the world. It‰Ûªs also a lifestyle choice and a very Zen and respectful way to travel, as well as a way to fully enjoy every moment.
What sailboat do you have at the present time?
I‰Ûªve owned a Jeanneau 37 2000 named Leporello for two years now.
Have you always had the same boat?
No. My first boat was a Shark 24 1969 and my second, a Westsail 32 1975.
What was the best sailing trip you‰Ûªve ever taken?
I would say when I travelled from Quebec City to Ì_les-de-la-Madeleine, but also the one in the summer of 2020 from Quebec City to Tadoussac, where I was able to make an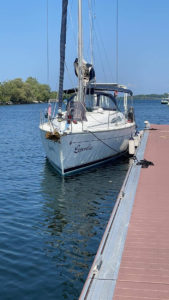 incredible entrance in the bay of Tadoussac with the tide, a perfect wind of 15 knots — all that with minke whale and beluga whales swimming on either side of the boat. It was fantastic.
Where do you usually go sailing and why?
I‰Ûªve sailed a lot on the St. Lawrence River but now, I‰Ûªm based at Champlain Lake. I also sail with a friend based in Martinique, Bernard Lamonde.
Do your sailing trips usually last one day or do you sail over several days?
Ideally, I go on my boat for several days. I like to soak everything up on board as long as I can.
What do you like the most about sailing?
It‰Ûªs a very physical sport (I often sail alone), which requires a lot of endurance and patience. It also forces you to live in the moment. For me, that‰Ûªs where I am most happy.
You have shared in the past that you have had some addiction issues. Does sailing help you personally in that respect?
Yes, with living in the moment. One day at a time.
What are the next sailing trips that you are now planning?
I‰Ûªll be back in Martinique for a trip to Grenada. And, in a few years, I would like to bring my boat to Martinique on a permanent basis.
What‰Ûªs coming up next in your professional life?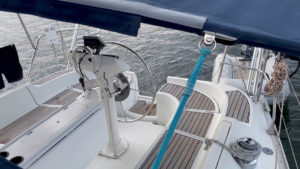 L‰ÛªÌächappÌ©e, a TV show on TVA, Virage on noovo.ca, which I‰Ûªm really proud of, Les Honorables since January on illico.ca and, lastly, a movie called Aline in the province of Quebec.