Tokyo 2020 Olympian Sarah Douglas will take part in the test event for the 2023 World Championships this week and she was invited to be on the Canada SailGP team for an event that was held in August.
"On Deck" conversation with the sailor from Ontario.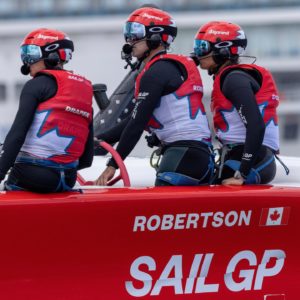 You recently took part in your first SailGP event. How did it go?
I had a lot of fun at my first SailGP event. The sailors and everyone involved with the team were very friendly and welcoming. I learned a ton during my time in Copenhagen but I still have a very steep learning curve to go through. It was tricky racing for us, but the team took away a number of learning points for the next event and the rest of the season.
What surprised you the most at the event?
The speed of the boats and the decision-making required when going so fast was incredible. SailGP runs 15-minute races and every decision is made in a split second; it is very important to get a good start!
What was your role exactly as a crew member?
I was the strategist and at position 6. The strategist has their head out of the boat in order to help in the prestart and with general course strategy, and communicate to the rest of the team what is happening with the wind and other boats around the course.
This can change in light wind, considering that only four sailors are on the boat. For the Canadian team, the female athlete then becomes the grinder and is in charge of grinding, jib trim and helping in the prestart.
Off the water, it‰Ûªs all hands on deck for the sailors. Every sailor on the team has a role when it comes to taking the boat in and out of the water, and it‰Ûªs truly a team effort behind the scenes.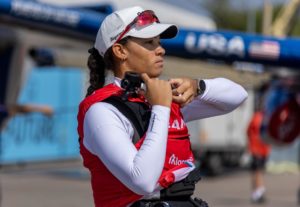 Had you previously trained in F50?
That was my first time on a F50. I had two days in the simulator and two days of training before the event.
Do you have other events coming up with Canada SailGP?
I hope to be more involved with the team going forward while remaining focused on my Olympic campaign for Paris 2024.
How will this experience with Canada SailGP help you on your Olympic journey?
SailGP has already helped with my road to Paris. The exposure to and learning from some of the best professional sailors in the world, to practice being in front of the media (which is something sailors need to handle at major events like the Olympics) and the professional sailing level required to compete in SailGP has and will continue to improve how I approach my Olympic campaign.
I went from the Sail GP in Copenhagen right back into my ILCA 6 and saw an immediate improvement in my boat and pressure awareness throughout the course.
Your last competition in ILCA 6 was at the World Sailing World Cup in June. Is there a reason why you haven‰Ûªt competed in that class over the past few months?
We have an odd summer this year with no major competitions in July or August. Our major events are in the spring and fall of 2022.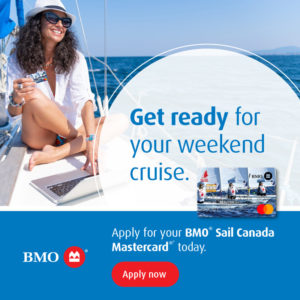 What have you done in terms of training this summer?
With no events this summer, it was great to maximize our time training at the 2024 Olympic venue. Time in Marseille is crucial in terms of learning the wind patterns, the conditions and being comfortable in the city.
You have trained at the 2023 World Championships and 2024 Olympic Games venues this summer. In what way is this important in preparing for both competitions?
It‰Ûªs always important to spend time at different venues before a competition. The 2023 Worlds are our first opportunity to qualify for the Olympics and it is a peak event. There is a strong tidal current, something I am not very familiar with, so it has been great spending time there and understanding how that will have an impact on our racing.
My entire program is designed to ensure that I will be peaking at the 2024 Olympic Games.
In your latest newsletter, you mentioned you were dealing with some hip pain. How are you doing on that front?
Injuries are part of every athlete‰Ûªs career and I have a small labral tear in my hip. Luckily, it‰Ûªs small enough that I don‰Ûªt need surgery but it‰Ûªs important to be aware of it and to build up my hip strength to prevent further injury. I‰Ûªm fortunate to have an amazing team around me that has helped me through this injury and is making me stronger as we move past it.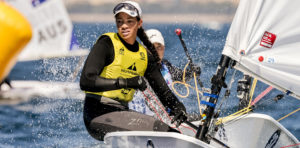 Are there still any fears or worries regarding your injury?
There was the fear that I was going to need surgery and I‰Ûªd have to miss a significant amount of training time, but I‰Ûªm glad we caught this early and my team has a great plan.
What's coming up for you over the next few months?
I have a busy couple of months. The ILCA 6 World Championships are in Texas in October. This is my peak event and we have been preparing for this all summer. The Senior European Championships in Hyeres, France, in November will then be my final event of the season. After that, I‰Ûªll take my much-needed break and return fresh in the new year.