Reuben Qaunaq has taken part in the Tall Ship Expeditions Canada experience which crossed the Great Lakes in July. "On Deck" conversation with the young sailor from Iqaluit, Nunavut, a few days prior to the National Day for Truth and Reconciliation, which will be celebrated on Thursday.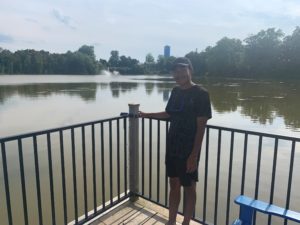 Can you tell us more about this experience?
Tall Ships Expeditions Canada is a youth summer camp for people who are 13 to 18 years old and who want to learn how to sail a tall ship, and trainees get to stay aboard for a week. By the end of the week, the trainees have all the skills needed to sail a tall ship or a sailboat.
And how did it go?
My experience aboard the ship was amazing and an eye opener for myself and other Nunavummiut, I was able to meet and learn so much from people from all walks of life, especially the crew.
It was your second year in a row with Tall Ship Expeditions Canada and this year you were a teacher for the trainees, sharing skills needed to be on the boat. What did you teach exactly?
This year, I was able to come back as a PO (petty officer). I was able to teach so many youths this summer! I was teaching them basic skills such as unfurling and furling the sails by climbing. I was also setting stations so the people in stations could pull the sail or move the sails to the starboard side or the port side.
What did this experience teach you?
What I‰Ûªve learned from this experience is that my time is so valuable and that we can do so much in the little time that we get. Also, I‰Ûªve learned that there‰Ûªs so much about life that we don‰Ûªt see out there in the real world.
You say that this journey has changed your life. In what way?
This journey changed my life because I was able to visit so many places and learn new things from people from all walks of life. I also worked with the best crew of all time, people who really cared about me and understood me in many ways, given that I‰Ûªm from a small town. It made it easier for me and I felt like I was at home!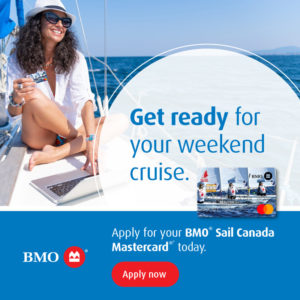 Twelve other young people from Nunavut were also part of this year‰Ûªs expedition. Did they see you as a mentor?
These people from Nunavut all relied on my knowledge and trusted me in many ways. I was really happy to pass on the knowledge to my people (Inuit) so that, in the future, the skills can be really useful to these youths and I know that they will pass on the knowledge to other kids in the future so that more sailing can take place in Nunavut.
How were you able to cover the costs of travelling to take part in this expedition?
The Ayalik Fund was able to cover my flights from Arctic Bay, Nunavut, to Ottawa, with a return ticket. Also, last year, during my time as a trainee, the Ayalik Fund covered everything, and they also paid for all the people from Nunavut who went sailing on the St. Lawrence River in 2022.
Had you sailed before?
I had zero experience in sailing last year as it was my first time ever. In fact, it was my first time on that type of ship. I had zero knowledge but now, I have learned and seen everything that happens on board.
Could you tell us more about your community?
I was born and raised in a very small town, Arctic Bay, Nunavut, where there is a population of 1,000. We only have two stores, which are very expensive, and everybody knows everybody here in Arctic Bay. It‰Ûªs very nice and peaceful up here, where my people have lived for over 5,000 years. Our culture is very strong and our language is still pretty strong.
How did you first get interested in the sport of sailing?
I became interested in the sport of sailing because I needed new skills to learn and wanted to open up my world. I didn‰Ûªt know it was going to be sailing, but I‰Ûªm planning to be sailing forever!
Are there many people in your community who sail?
I‰Ûªm the only sailor in my community.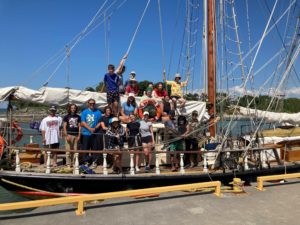 Thursday is the National Day for Truth and Reconciliation. What does that day mean to you?
The biggest thing you can do as an individual, to start with, is to assess your own bias. Every person has implicit bias. These are the things we‰Ûªve learned that are unconscious, that sit in the back of our minds, but have an overwhelming effect on how we experience and interact with the world. When you think of Indigenous communities or Indigenous individuals, what stereotypes might come to mind? Why do you have these stereotypes? Where did they come from? And most importantly, how can you fight against these implicit thoughts to ensure that you act from a place of truth and of reconciliation in your day-to-day life?
Have you had to face any particular challenges during your development as a sailor?
I can assure you the number one problem is ‰ÛÏvigilance‰Û. You have to give up on sleep and you must always be ready, always be on the watch, and always train and be trained.
Small boats have small crews, which means everyone has to be ready to replace one another if someone should start having problems. And you will have problems! The sea is unforgiving and people lose their skill sets when the stress is on. But you will always be stressed: storms, waves, accidents, illness, hatred, distrust, piracy, mechanical failure, hull breaches, navigation errors, poorly written logs, falling asleep on watch, fires, and, of course, you are always just one wave away from falling overboard or capsizing.
What do you like about sailing?
When you're on the water, you have an unbridled sense of freedom and opportunity, as you can always continue to see what lies on the other side of the horizon. Not only do you feel a strong connection to the elements and nature, but to the entire world. I suppose one could say that about walking in the forest as well, but it just isn't the same, as practically every time you're out sailing, someone suggests (mostly in jest) that "you do realize that we could just point the bow ten degrees westwards and continue on to the other side of the Atlantic" or something equivalent. That sense of freedom just doesn't exist on land.
In addition to all of that, although it is somewhat of an oxymoron, you feel isolated from everything else. The rules and routines of everyday life just don't apply in the same way anymore. One example of this is that most vessels are small enough to be called cramped. You're in constant contact with the other people on board. You learn to know those people well, because being on a boat will inevitably reveal the true nature of your shipmates. I've seen fights erupt due to absolutely trivial matters, but more often than that, I've seen everlasting friendships forged through working together in order to fulfil a common purpose. If you sail long enough with someone, you internalize their thought processes as well, to the point of almost being able to have a telepathic link.