Winner of three medals in sailing at the Paralympic Games, including gold in 2008, Paul Tingley is now the chair of AbleSail Network Canada. "On Deck" discussion with the retired athlete from Nova Scotia.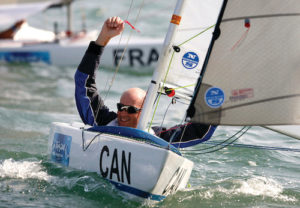 Can you talk about AbleSail Network Canada and what it does?
AbleSail Network Canada is an organization created in 2006 as a national grassroots charitable foundation that provides sailing programs for sailors with disabilities from coast to coast.
Can you give us an overview of parasailing in Canada?
Over 22% of Canadians have a disability, and some have greater needs that require specialized sailing equipment and support. There are 18 Able Sail clubs across Canada that offer safety and promote independence. There are thousands of sailing hours each summer that are provided at Able Sail clubs. These clubs are usually supported by yacht clubs, instructors and volunteers. The pandemic put many programs on pause, but we are expecting a full summer of activity in 2022. Most clubs use the Martin 16 and the Mobility Cup is our annual regatta, where racers with a disability compete in the Silver and Gold fleet.
What is coming up next for parasailing, now that it has been excluded from the Paralympic Games program?
Parasailing has been taken out of the Paralympics, which has unfortunately changed the racing pathway and reduced the number of racers. AbleSail Network is advocating for parasailing to return to LA 2028, where the host country could help in making it happen.
How can clubs contribute to improving accessibility to their facilities and programs?
Our sailing population is getting older and with age comes mobility issues. Accessibility grants are available across Canada and they are designed to help reduce barriers for persons with disabilities, while also helping your yacht clubs‰Ûª ability to meet the needs of your aging membership.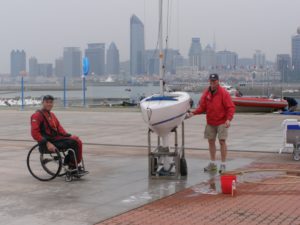 How can AbleSail Network support them?
AbleSail Network can advise on accessibility, equipment and coach training. We also provide opportunities to connect to useful resources and information for sailors with disabilities. In our experience, facility access and equipment expenses can be covered through grants and donations. Your province may have specific funds you can apply for to improve access, and we have found service clubs and corporations have been very responsive to donating accessible equipment.
How can they contact your organization for support?
We invite people with disabilities across Canada to get in touch with us online at www.ablesailnetwork.com and by email at ablesailnetwork@gmail.com.
Parasailing is not part of the Paralympic program for Paris in 2024. Do you think this will have an impact on participation in Canada?
Most of the sailing by persons with a disability won't be affected. This is the grassroots part of the pathway. But sailors with racing ambitions will be affected since the paralympic opportunity will be gone.
World Sailing is putting together a plan in an effort to bring back parasailing at the Games in 2028. Do you think we will indeed see that happen?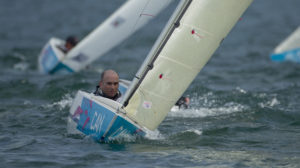 Parasailing is making a lot of noise on social media and it doesn't hurt to raise awareness. I believe that the host country can affect the sports that are chosen and hopefully, the USA will push for parasailing at Los Angeles 2028.
Since your retirement as an athlete, what do you do aside from being chair of AbleSail Network Canada?
I'm working for the province of Nova Scotia as a recreation consultant, which allows me to advocate for accessible and inclusive recreational opportunities in the province.
Do you still go sailing?
I own a Kirby 25 with a partner and we are splashing next week, so I still get to say my favourite three words, "Let's go sailing!"