Marie-AndrÌ©e Poulin was an entertainment and weather reporter for the TVA and LCN French-language networks for many years. ‰ÛÏOn Deck‰Û discussion with the spokesperson for the Femina Cup which was held July 7-10.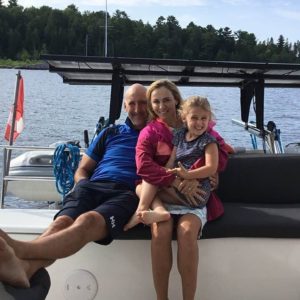 When and how did you start sailing?
We started in 2017. My boyfriend (Richard Petit) told me that he wanted us to have something that we could all do as a family. He had always wanted to have a boat and be out there on the water. I thought it was a great idea! The fact is that at that time, we were always running around, having to plan everything in advance to be able to balance work and family life. So trying to find quality time that everyone could enjoy together wasn‰Ûªt easy. We had never done it, so we spent a week on a catamaran in the Bahamas and all three of us got hooked!
We then started to take courses: cruising, marine weather, VHF-ASN radio and first-aid for me, and for my boyfriend, how to travel across the Atlantic, offshore safety and survival course, intermediate offshore safety and survival at large, intermediate and advanced coastal navigation, electricity onboard, adjustment of sailing and regattas, advanced marine weather, and also for my boyfriend, the basic and intermediate sailing courses.
We bought a catamaran, a Lagon 40 that was docked in the Bahamas. My daughter started attending sailing camps every summer and we would spend our holidays out on the boat. We also spent an entire month on our boat, it was perfect!
Do you still have your boat?
We have sold our Lagon 40 catamaran and we are presently evaluating our needs for our next purchase.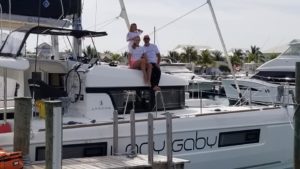 Have you made long trips on a sailboat?
All three of us left for a month and we cruised in the Exumas. We would like to go away for a year, all of us together, before our daughter Gabrielle finishes elementary school. She is in third grade so it will happen sometime over the next three years for sure.
You were the spokesperson for the 2022 Femina Cup. For people who aren‰Ûªt familiar with the event, can you describe what it is?
It‰Ûªs an eight- to ten-hour nautical challenge where currents, tides and winds can all take participants by surprise. The 2022 route went from Beauport Bay to Cap-Rouge Bay, combining buoys and distance.
But aside from the regatta itself, there is a strong message that is sent: the democratisation of women‰Ûªs sailing. At this big get-together, we had 150 women in 35 boats this year. The picture that it paints says it all: women take their place and have earned their rightful place. Navigation and sailing, like in many other areas in life, can sometimes be seen like more of a ‰ÛÏmale‰Û thing.
Michelle Cantin, the event‰Ûªs great founder and president, has also had the good sense since the beginning to support future generations and allow teenagers to get introduced to sailing. Some of them who took part in previous editions are still crew members to this day and one of them even has her own boat. That‰Ûªs fantastic! I like the idea of fostering new passions and sailing teaches us so many great values. The Femina Cup is, aside from the race, a unique and rewarding experience. It‰Ûªs something that has touched me because it pushes us to always raise the bar and it promotes team spirit, respect for nature, endurance and motivation.
This year, there was a great add-on: the ‰ÛÏFemina Challenge‰Û targeted to those who wanted to raise the level of difficulty. In addition to taking part in Saturday‰Ûªs Femina Cup, the participating teams had two events on the Friday. Since 2014, a few hundred female navigators from across Quebec, and sometimes from outside the province, have headed out each year to LÌ©vis to take part in the Femina Cup challenge on the majestic St. Lawrence River.
How did this year‰Ûªs edition go?
It was another great success! The weather was perfect ‰ÛÒ we had great weather all weekend long! We had wind and sometimes not, currents, tides, all of that to take into consideration, and everyone was in a great mood! What more can you ask for?
The beauty of it all is also the fact that we don‰Ûªt know each other. Every time, I get to meet new teammates, to know new people, to navigate with them and I find this fascinating! I love to meet people and to see some familiar faces again, to get to know new ones, to be back with the great team that does an extraordinary job of organizing and coordinating the event, and it couldn‰Ûªt make me happier!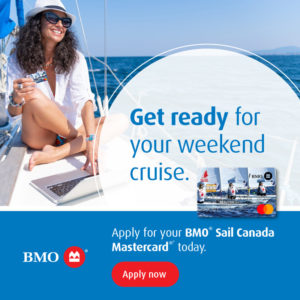 Have you personally taken part in the event?
Oh yes! I‰Ûªm not only a spokesperson, I‰Ûªm also a participant. I will not deny myself of that pleasure. It‰Ûªs so much fun to not only talk about something you like, but to do it too. Taking part in it comes naturally to me and I love the event.
What have you taken away from your participation at this year‰Ûªs event?
There were six teams and we finished sixth, but we got back to the dock with everyone safe and sound, and the boat was in perfect condition. We did our best and we had a lot of fun so, as far as we were concerned, we reached all of our goals.
Aside from the race, one must not forget that the attraction of it all is to have fun sailing together! I found it to be a perfect event from start to finish. There were a lot of activities and everything went really well.
What is it like to take part in an all-female competition?
It‰Ûªs great! Everyone pulls together, there is great team spirit and a lot of positivity, which makes the event so worthwhile. We are all so happy to be there all together and you can feel it. There is a great vibe, lots of smiles and, out on the water, we greet each other, we cheer for one another and it's really nice to see.
How do you see things in terms of the place women have on the Canadian sailing scene?
I think women are increasingly taking their rightful place. We also need to let them have more opportunities to showcase themselves and to lend them support. We need to continue to move forward and go in the right direction, like we do in so many other areas of life.
What can we do to improve things in terms of the place women have on the Canadian sailing scene?
Events like these send the message that women have no fear in doing the same things men do. It‰Ûªs great to see these female regattas, as well as events which put women at the forefront, and that needs to continue.
What do you like about sailing?
I like the feeling of freedom that comes with it. When I‰Ûªm out on the water, I leave everything behind. This is why I got hooked so quickly. For me, being able to put work and day-to-day stuff aside is extremely hard. In our very first family outing on the water, it was astonishing for me to see how calm and beautiful it was out there, and how nature has a forceful and calming effect. I also like the physical aspect of sailing because I‰Ûªm an active person who likes to move around a lot. In fact, I really like everything about sailing!