Mariah Millen took part in her first Olympic Games last summer in Tokyo and recently competed at the Canada Cup and the 2021 Rolex New York Yacht Club Invitational Cup with the RCYC team. ‰ÛÏOn Deck‰Û conversation with the sailor from Toronto.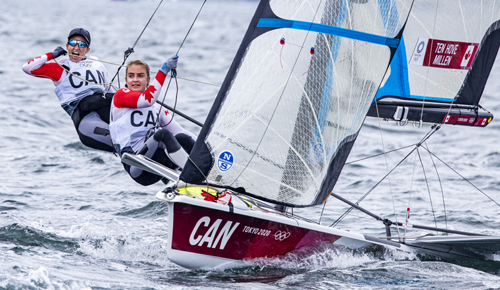 How was your experience at your first Olympic Games?
Some of you may or may not know this, but I got very sick right before racing in Japan. It was pretty devastating at the time, as it wasn‰Ûªt exactly what I was picturing when I dreamed about going to the Olympic Games. I was determined to make sure that this speed bump would not get the better of our team and I'm super proud of how strong we stayed during the whole experience.
What did you do when you came back from Tokyo 2020?
Besides taking some time off to relax with friends and family and enjoy the summer, I started to do a bunch of sailing at the RCYC. I have a hard time just laying low, so it was great fun to jump into club racing, winging and training in the IC37!
You had the opportunity to compete at the Canada Cup and 2021 Rolex New York Yacht Club Invitational Cup with your dad John. How did that come about?
Growing up at the RCYC, there were opportunities for me to sail with some of the past and current members of Team RCYC. Terry (McLaughlin), for instance, was always sailing with my father, so I would occasionally get invited to be involved. I attended the NYYC Invitational Cup as a spectator once or twice, as my dad has done this event six times. When the Regatta switched to the IC37 and when they changed the class rules to include two female sailors, I was very keen to be put on the team, alongside my dad. After we raced in 2019, the team had a good dynamic and after many crew trials during the spring/summers of 2020/2021, I was selected to be a part of the Canada Cup and my second Invitational Cup.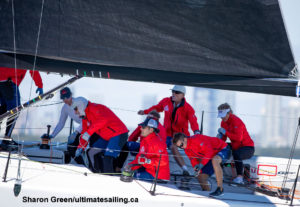 You made the transition from 49er FX to the Melges IC37 (Canada Cup and 2021 Rolex New York Yacht Club Invitational Cup). How did that go?
The transition wasn‰Ûªt too bad as I've raced big boats in my spare time in the past. Everything that happens in the IC37 is just a scaled-up version of what happens in the 49er FX. My biggest goal when sailing the IC37 is to learn as much as possible so I can apply it to my own sailing.
Also, I make sure I remember to wrap the winch clockwise haha!
What are the biggest differences between the 49er FX and the IC37?
The boats are of course very different. On the 49er, I am responsible for half of all jobs. But on a keel boat like the IC37, there are 8-9 people who split the jobs up. While racing the IC37, I was able to really focus all of my attention on the mainsail trim and a few other jobs without worrying about the other sails. It's great to work with a bunch of talented people because it is a good learning opportunity and you can trust your teammates to do their job to the best of their ability.
What did you learn from these experiences in IC37 that you were able to bring to 49er FX?
The winner of a sailboat race is whoever makes the fewest mistakes. Experience is a huge factor in this. Getting out on other boats and racing with other talented sailors helps me develop skills that will, ultimately, make me a better sailor in the 49er FX.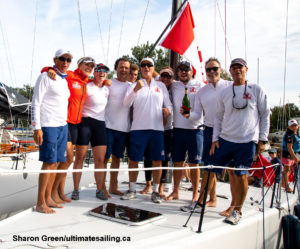 How was it to compete with an experienced sailor like your father and Terry McLaughlin, who was a bronze medalist at the 1984 Olympic Games?
Whenever I get the chance to sail with some of Canada‰Ûªs sailing legends like Terry McLaughlin, Sandy Andrews, Frank McLaughlin and my father John Millen, I try to learn as much as I can. These guys have so much experience. So, if I can learn one or two things from them each day I'm on the water with them, I‰Ûªm ahead.
Was it the first time you competed alongside your dad John?
I have had the pleasure of racing with my dad throughout my childhood. I remember he used to take me out on the RCYC Club Ideal 18s and we would race together. I was way too young to know what I was doing, but he would put me at the helm and tell me where to go! Now, it‰Ûªs extra fun racing with him because we can work together to be as fast as possible.
What was it like to go through this father-daughter experience in a competitive setting?
I love racing with my dad. He has so much knowledge to share and he is such a positive teammate. People call him the wind guru as he is incredibly good at predicting what the wind will do!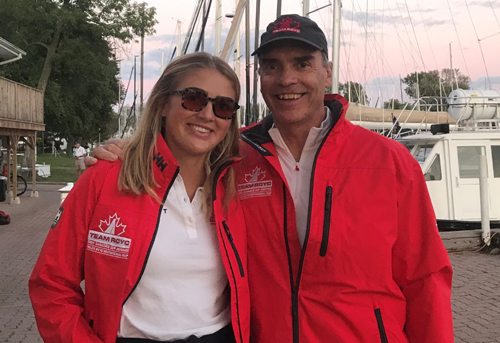 What‰Ûªs next for Mariah Millen?
Ali (ten Hove) and I are just putting together our schedule for the Paris 2024 campaign. We have taken some time to relax and plan ahead. We are making some changes and we cannot wait for everything to come together.