At his first Kite Foiling World Championships, Mac Morrin took 67th place overall. "On Deck" conversation with the athlete from Kingston who, as a nurse, also worked tirelessly during the pandemic.
Sail Canada ‰ÛÏOn Deck‰Û: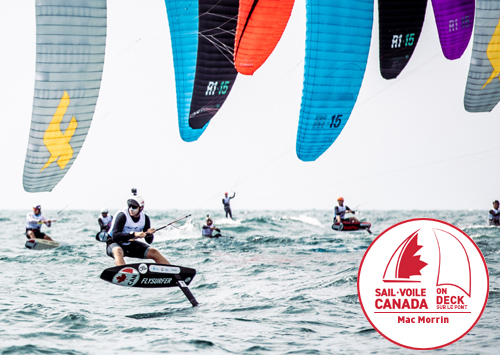 Are you satisfied with your performance at the World Championships?
Mac Morrin: Overall, I am happy with my results at my first World Championships. Throughout the event, I had moments where I felt really solid. For example, I was able to round the top mark in the top 10 a few times in qualification.
It was a great experience to identify areas of weakness and my inconsistencies, and I am feeling more motivated than ever to continue to improve.
Sail Canada ‰ÛÏOn Deck‰Û:
What did you learn from these World Championships?
Mac Morrin: It may sound basic, but I was reminded of the importance of getting on the water earlier than other competitors when possible. Especially in kiting, getting off the beach and avoiding tangles is important. In addition, being on the water early helps you determine whether you picked the wrong kite or not and gives you enough time to swap out if needed.
During training days leading up to the event, we had large fleets of up to 50 kites. Learning to start in such a big fleet was a challenge and helped me prepare for the slightly smaller fleets during the event. I am still learning to perfect my prestart line routine.
Sail Canada ‰ÛÏOn Deck‰Û: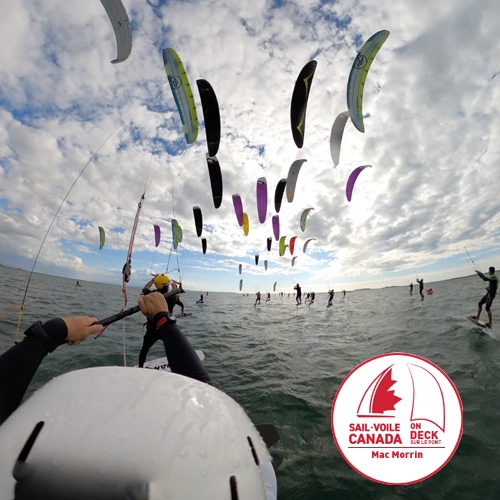 Can you talk about the international field that competed at these World Championships?
Mac Morrin: It was a really exciting event with over 30 countries represented. There were 90 athletes in the men‰Ûªs category and 47 in the women‰Ûªs category. We also had masters, grand masters, and youth from all over.
Sail Canada ‰ÛÏOn Deck‰Û:
What will you need to work on?
Mac Morrin: I‰Ûªve identified three key areas I want to work on: endurance, downwind speed and start line stress.
Kiting is physically demanding and going forward, I will continue to work hard on my fitness to improve endurance.
I also know I need to work on improving downwind speed, because this an area of the racecourse where I lost positions.
Finally, I need to improve my mental game and reduce start line stress so I can focus on executing my start plan.
Sail Canada ‰ÛÏOn Deck‰Û:
How and when did you start sailing?
Mac Morrin: I started sailing in Belleville at the age of 10. One of my close friends was going to sailing camp at the Bay of Quinte Yacht Club and my mom thought it would be a good idea for me to join him. Initially I was nervous but after the first day on the water, I fell in love with the sport.
Sail Canada ‰ÛÏOn Deck‰Û:
How and when did you start Kite Foiling?
Mac Morrin: I started Kite Foiling about five years ago. I had recently been accepted into the Fast-Track nursing program at Queen‰Ûªs University and I had to take the difficult decision to quit 49er sailing and return to school.
I was drawn to kiteboarding because I could enjoy it on my own time and it was just as fun as 49er sailing. I enjoyed it so much that I decided to move on to foil racing. At the same time, I graduated from nursing school and started working full time. The flexible schedule I have in nursing has allowed me to continue kiting and to start to pursue my Olympic dream.
Sail Canada ‰ÛÏOn Deck‰Û:
For people who have never heard of Kite Foiling, explain why you like it so much?
Mac Morrin: I‰Ûªve always been competitive and love spending time on the water. With the fast-paced and intense nature of kiteboarding, the racing is never boring and I have fun every time I go out on the water.
Sail Canada ‰ÛÏOn Deck‰Û:
You are also a registered nurse in Ontario. What was it like working at the height of the COVID-19 pandemic?
Mac Morrin: The past 20 months or so have been a pretty wild ride. In March of 2020, when the pandemic hit, I was in Mexico training for kiteboarding. With borders starting to close and the healthcare system in crisis, I quickly returned to Canada.
Like many nurses in Canada, my work was very stressful and I had to take on new roles as I was relocated multiple times due to staffing needs.
Sail Canada ‰ÛÏOn Deck‰Û:
Where do you usually work, where did you work during the peak of the pandemic and did you come across any patients who had COVID-19?
Mac Morrin: I work as a nurse for the federal government, in a correctional facility. As I‰Ûªm sure you can imagine, working at a correctional facility is quite stressful on the best of days. COVID-19 exacerbated these existing stressors and presented new problems for myself and my team to deal with. I spent most of my day shifts during the pandemic testing patients and staff, and I spent my night shifts providing front line care. I did work with some COVID-19 patients but fortunately, we were able to limit the spread and prevent serious illness.
Sail Canada ‰ÛÏOn Deck‰Û: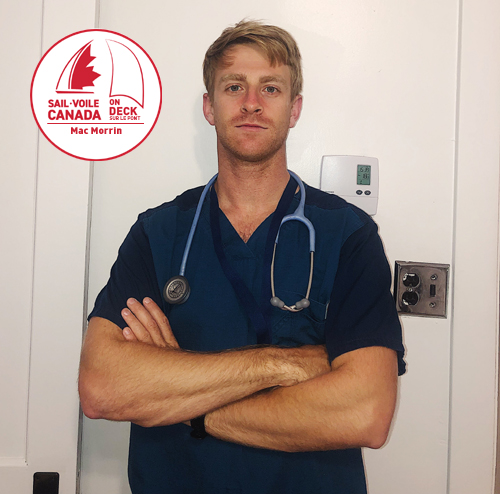 What is your most vivid memory from the COVID-19 pandemic?
Mac Morrin: I‰Ûªm not sure what I remember specifically but it made me reflect on what is important to me. Not being able to spend time with friends and family was hard. I am glad to see that we are making progress towards recovery.
Sail Canada ‰ÛÏOn Deck‰Û:
Did it interfere in any way with your training?
Mac Morrin: Yes, but I was honestly thankful for having a stable job and knowing that my family and friends were healthy. I waited until there was some clarity on whether it was legal to go outside and train before going on the water. Kiteboarding has been an important part of my life since I became a nurse and it has been one way to relieve my level of work stress and to keep myself grounded.
Sail Canada ‰ÛÏOn Deck‰Û:
What would you say to someone who did not get the vaccine?
Mac Morrin: I would tell them that the vaccine is a safe and effective way to protect themselves and those around them from the serious risks posed by COVID-19. As a type 1 diabetic, I know first hand the importance of getting vaccinated not just for yourself, but to protect those who are immunocompromised around you.
Sail Canada ‰ÛÏOn Deck‰Û:
What's next for Mac Morrin?
Mac Morrin: Once the Olympic qualification framework is released this fall, I will be able to start planning the schedule for the next few years of my campaign. For this year, I hope to spend some time training and racing in the US and Mexico.
I am excited to keep training hard and represent Canada internationally!