Sailing judge Lynne Beal from Toronto took part in her fourth Olympic Games in Tokyo. Certified as a Canadian judge since 1988, she was a member of a 28-person international jury at the 2020 Olympic Games. ‰ÛÏOn Deck‰Û conversation with the Canadian judge.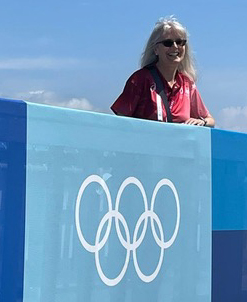 How was Tokyo 2020?
Strange! Japan required that all members of the Olympic family have two negative COVID-19 tests to enter the country. Officials were confined to our hotel or the sailing venue at Enoshima. We were escorted to and from bus transportation by security staff. We had to order evening meals at the hotel from Uber Eats. We all had to do daily COVID-19 testing and reporting on-line. At the venue, masks and social distancing were mandatory. Some rules advisors worked remotely.
But on the water, it wasn‰Ûªt that much different from previous Olympics. It was hot and there were great winds. Hydration was important, and cooling jackets were big sellers for competitors. The level of compliance with COVID-19 protocols was high. It was a credit to all the athletes and officials who showed their respect for the Japanese COVID-19 protocols, and their commitment to keep everyone healthy and focused on the Games. This was a very different experience from London and Rio. But the level of enthusiasm, friendliness and help from the Japanese volunteers was unsurpassed.
What was your role in Tokyo?
I was a member of the 28-person international jury. Each of us was assigned a lead role with some duties. I led the jury panel which responded to questions from team leaders and coaches. I also monitored and kept the jury up to date with any revisions to documents governing the event. I participated in hearings, as chairman, scribe or a member of the five-person panel. I was afloat on various courses, judging kinetics and watching for any other issues that might go to a hearing.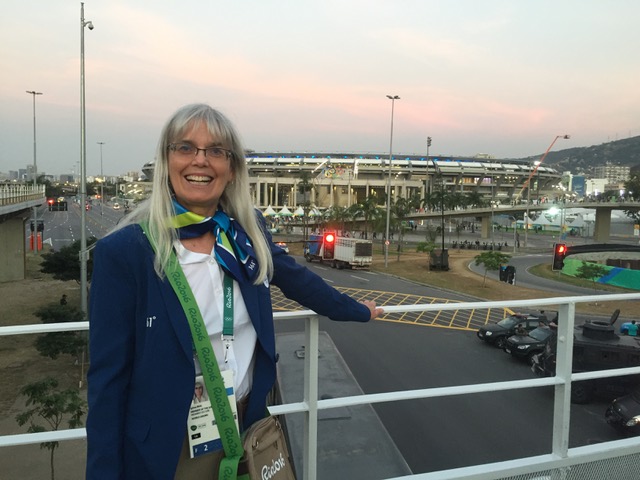 You were a member of the international jury at London 2012, Rio 2016 and Tokyo 2020. Which Games did you prefer?
My first Olympic experience was as manager of the jury office at Atlanta 1996. I was in awe and I took a lot of pictures. Going into the London 2012 Olympic and Paralympic juries, I knew what the security, hype and pressure would be like. I was one of the junior members of the jury, and I learned from the more senior judges. I felt better prepared and less vulnerable to the distractions of the spectacle. I have some pictures from London. At the Rio 2016 Olympics and as Vice-Chairman for the Paralympic jury, and again at the Tokyo 2021 Olympics, I was even better prepared. Like athletes going to their second and third Games, in Tokyo I had a higher level of competitive maturity and confidence to deal with the pressure. At all of these Games, I benefitted tremendously from the opportunity to work with colleagues who brought a high level of experience, skill, maturity and professionalism to our work. Each event is a fond memory, even if I have fewer pictures from Tokyo.
At the 10th and final race before the medal race in Tokyo, Laser Radial leader Anne-Marie Rindom from Denmark did not finish the race following some confusion at the start line. Could you clarify what happened?
Anne-Marie explained her mistake, she was uncertain of a penalty rule. In her defense, it is not a rule that athletes encounter often. The jury had given her a first rule 42 penalty for pumping downwind, and she took the two-turn penalty. She then got a second rule 42 penalty at the start of race 10, and took the penalty of retiring from the race. Then a general recall was signalled, and the penalty was cancelled but kept in the count. But she was not certain about what she should do, and did not have time to talk to her coach. So she decided to retire from the race instead of joining the restart, for fear of being scored DNE (disqualification that is not excludable). That gave her 45 points in race 10, which she was able to discard as her worst score. Even at this high level of competition, athletes do not always know all of the rules.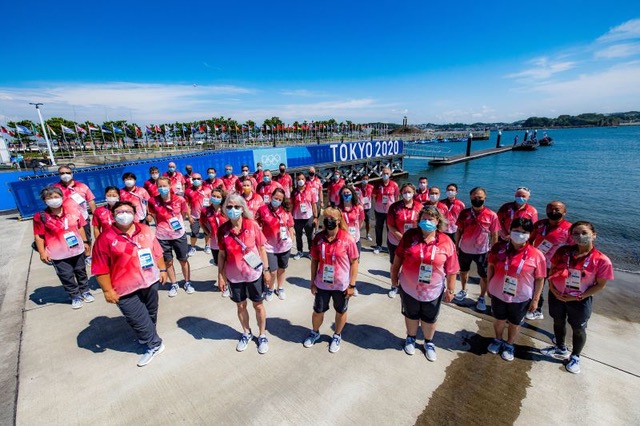 Are there any new trends that you saw in Tokyo and that would be worth sharing with Canadian sailors?
Over the Olympic cycles, the rules for the Olympics have become more complex. Teams keep raising the bar and becoming more reliant on rule experts as well as coaches to keep them informed. Technology has advanced and, not surprisingly, teams with greater financial resources incorporate more technology into their support program; everything from weather stations that record and transmit data to monitoring the internal temperature of athletes. In contrast, World Sailing, in attempting to keep a level playing field for teams with smaller financial resources, has limited the use of technology. Negotiations are likely to continue with the goal of allowing more technology.
How does Olympic competition differ from other international regattas?
The eyes of the world are on the Olympics, with more pressure on athletes and officials alike. It is a pinnacle for athletes, with high stakes and motivation to use every means available to obtain the best result possible. For officials to be entrusted by World Sailing to officiate at the highest level of the sport is a great honour, which comes with a high burden to deliver quality service to the athletes. Questions and rules situations are more complex, with high-stake outcomes. Instant communication of decisions leads to immediate criticism if anything goes wrong, which is to be avoided. For race officials, it is a unique opportunity to work with some of the best officials in the world. And from the issues arising, often ideas emerge to make the rules better, to advance the sport.
What initially pushed you to become a judge?
As a racing sailor, I wanted to become more proficient with the rules, to become a better competitor. Sitting on protest committees at my club led me to study the rules and the cases, and to engage in rule discussions with senior judges. I enjoyed those sessions much more than partying at the bar. As I gained a deeper understanding of the complexities of the rules, I became more interested in focusing on judging.
For those who would like to be a judge at the Olympic Games in the future, explain how they can achieve this?
The same advice applies for all disciplines of race officials: Commit to being a student of that discipline. Then aspire to do the best job you can, rather than to judge at the highest level. You will be noticed for your competence, and get invited to judge at a range of events. Sail Canada offers training in all disciplines of race officials from entry level. Experience with Olympic classes is essential, so many race officials look to establish working relationships with an Olympic class. More recently, the IOC and World Sailing have set goals for gender equality in officiating, providing good opportunities for women. However, the level of competence required is not different. And keep on racing, because that experience helps tremendously.
What would your advice be to a new judge who wants to advance to higher levels and be an official at international events?
Get as much experience as possible on protest committees, from local to national events. Attain a high level of competence with the racing rules and class-specific rules. Be a team player on the protest committee and in the multidisciplinary group of race officials. Establish a working relationship with a more senior judge as a mentor who guides your development. Acknowledge your areas for further development and learn from your mistakes. Establish working relationships with colleagues who will support you in getting better. And help them to get better, too. Make your focus to do the best job you can for the event, rather than to make the best opportunity for yourself.