Karen Morch won the gold medal at the first women‰Ûªs Olympic windsurfing event in 1984, when it was still a demonstration sport, and she was inducted into the Canadian Sailing Hall of Fame last Fall. ‰ÛÏOn Deck‰Û conversation with the sailor who was born in Thunder Bay and now calls Toronto her home.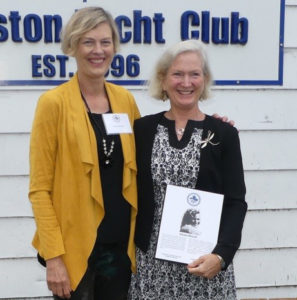 Congratulations on your induction into the Canadian Sailing Hall of Fame. How does it feel?
To be inducted into the Canadian Sailing Hall of Fame was a profound moment, giving me the gift of reflection on my history with sailing. Not only on my own achievements, but the depths of our family's love of sailing as the Morch name can be traced back to generations of shipbuilders in Denmark. To my Danish grandfather who moved to Canada, who designed and manufactured boat parts in Belleville until the onset of the Second World War when Morch Manufacturing, the name of his company, was converted into manufacturing airplane parts for the RCAF (Royal Canadian Air Force). He was an avid sailor and he brought his children into the world of sailing. My uncle Ian became an integral partner in the development of C&C yachts. And of course, more importantly, my father and my mother's great love of sailing, both racing and cruising everywhere, from the Great Lakes, to Alaska and to New Zealand, was inspirational. So my response to being inducted also carries this amazing bedrock of sailors. To say that I was over the moon delighted and felt very honoured to be inducted would not be complete without these reflections.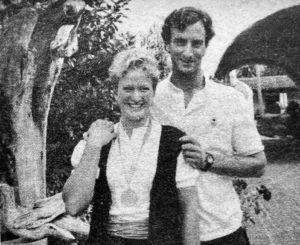 You won the gold medal in windsurfing at the 1984 Olympic Games. How did you feel back then when you realized you won gold?
Going into the last event, I knew I had a very good chance to win a medal. With the high winds and big waves, the hardest conditions for a slalom event I had ever been in, I gave it my all as I saw a lot of competitors really struggling. I made it through to claim fifth place, in slalom, and I knew the numbers were going to be close for the gold, the top competitors being close on my heels. When Rob Bruce, from Kingston, who was the Olympic Demonstration Event Manager, came and knocked on the locker room door (moments after the finals) to tell me that I'd won the gold, I had a moment of shock and joy in the same moment! The reality of winning the coveted gold was immense after all the years of dedicated training and competing all around the world. It's hard to express the fullness of that moment, but in reflection, it was surreal because it was like a dream come true, but one that I had never actually imagined.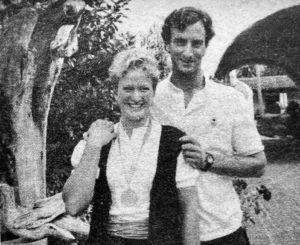 What are your fondest memories from the 1984 Olympic Games?
The joy of having one of my best friends arrive moments before the medal ceremony, Frank McLaughlin. He drove up to Santa Barbara after competing with Martin ten Hove ‰ÛÒ he was also taking part in his first Olympics. I was just lining up for the ceremony when I felt a tap on my shoulder. I turned around and there was Frank and he said: ‰ÛÏHey, how did it go?‰Û I burst out for the first time, ‰ÛÏI won the F-ing gold‰Û. He was the first person I shared that news with as there had been no time to call my parents from the moment of Rob‰Ûªs news to minutes later, lining up to parade into the ceremony. That's a moment I will never forget as it was a really special one for me because Frank and I grew up sailing as friends, but also as competitors supporting each other.
My other great memory was the slalom event. It looked like everyone was struggling around the course in the heavy conditions and I just hunkered down, got calm and told myself: ‰ÛÏYou can do this Morchie, you got it!‰Û And the rest is history!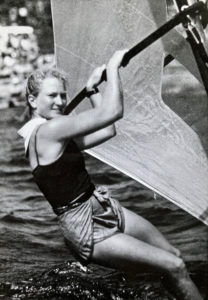 What was your biggest challenge leading up to the 1984 games?
The biggest challenge was that I was juggling a lot of different parts of my life in the spring of 1984. I was just finishing my final year at university, dry land training in the spring, including hanging off a wishbone windsurfer boom in the basement of my apartment (not so much for strength), but helpful to pattern muscles as if I was boardsailing. Hanging off the boom, I also built enough calluses on my palms to avoid my skin tearing during our first competition of the season in early May. In the last days of April, I finished my last exam, came home, threw a few last items in my bag, including my 40-page independent study thesis in draft form, and I hopped on a plane bound for Italy for the Team Sailing Worlds. Sidebar note: my hands did rip unfortunately. I taped up my hands each day, a tough way to compete, but thankfully, it did not affect our great outcome as we were tied for first in our fourth attempt at the world title!
And then there were all the additions to our regular season of local and North American competitions – the Olympic trials, etc‰Û_ Then on to defend my world title in Perth, Australia. So it was a very intense buildup to the Olympics.
Did you try to take part in the 1988 Olympic Games?
I was moving on in my life. I met the love of my life after the 1984 Olympic Games and he had to go to school in Italy in the fall, so we headed to Europe and ended up living for two years in England. When I came back to Canada, my world had changed. I was beginning my life as a family, including kids, and that just felt like a whole new chapter of life, which I was very happy about. I never stopped sailing, teaching, coaching or racing myself, but the 1988 Olympics were not on my radar.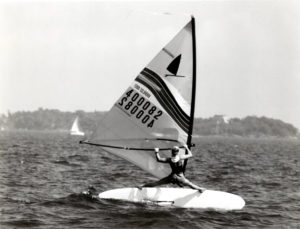 How important was this gold medal to you knowing that windsurfing was, at that point, a demonstration sport?
I really feel no difference in what I experienced in the demonstration event as it was also a full sailing medal event for the first time at the Los Angeles Olympics. Sailboarding was in its heyday! At the Windsurfing World Championships in 1983 in Kingston, we had the greatest number of participants, 800 from 27 countries, the highest number of participants of any world competition to date in dinghy or board sailing. The competition was at a very high level in all disciplines. In both the 1984 Olympic Games triangle racing and the Demonstration Event in Santa Barbara, we were competing with the best of the best! So, I‰Ûªm very proud of my course racing record, which is my forte, and I had to do an incredible amount of training to be really good in all four events of this wonderful sailing sport.
Now, it is a thrill to occasionally open up the official Olympic website of medal results, and there I am. So why would I value my medal as lesser in any way when the Olympic Committee does not. I know some people may feel differently about that, but I don't. We were competing at the height of the sport, at its most competitive, so I really felt I was amongst the best in the world.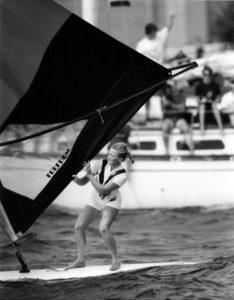 What was your reaction to windsurfing being excluded from the Olympics?
I'm a little bit sad because I do think that there are a lot of extremely talented individuals still, with really deep skill sets. But I think that it's like in many sports, things evolve, like skiing. It went from just being slalom and downhill racing and they've now included freestyle, aerial tricks and truly amazing variations. I see how different aspects of sports evolve. I'm sad to see it go, but I do feel like it's going to be really fun to see what they can do with the boardsailing foils event. And who knows, maybe they'll go back to another one design event, like the original windsurfer as its popularity has gone up. I also read that from 2018 to 2020, the popularity of windsurfing has gone up one 163%. So who knows what will happen with the sport. I'm always interested to see changes and new challenges evolve within any sport.
What are your thoughts on Kite Foiling?
I think it's going to be a big leap for a lot of one design sailors. There are lots of people out there on different kinds of boards. We've lived in New Zealand twice in the last seven years and the Kiwis can put a foil on just about anything down there. It doesn't necessarily mean that you have the same skill set. Some people have them on very small boards, some quite larger. But to do it as a one design discipline, I think that's going to be challenging. And I'm hoping that all those enthusiasts for sailing who are using foils really take this to heart and enjoy that challenge to get up to speed with whatever type, and I'm realizing that they probably won't be able to do a regular triangular course, at least not in the same way, because foils don't go upwind as well as a normal dinghy or sailboard. So we'll see what happens.
You were the first woman to win an Olympic medal in windsurfing. Do you see yourself as a pioneer in Canada and internationally?
When I think about how I got to participate in an elite level of competition worldwide, I think of the pioneer in sailing who had the most impact on the sport of sailing, Rhoda Rosen-Ironside. She was the voice of support in the creation/promotion of youth and women‰Ûªs sailing. She saw the discrepancies in access to sailing for women as they were just not as involved in sailing, mostly because they were of a smaller size and strength than men, so they were not as suited to compete in many dinghy classes. Rhoda spoke out about the need to attract more women in sailing and the notion of creating women‰Ûªs events, and she did it over the period of her serving on the Board of Directors for the Ontario Sailing Association. Rhoda sadly passed away in November of 2011, but she lives on with her ‰ÛÏRhoda‰Ûªs KIDS‰Û Bursary Fund, which has created access for children to experience sailing who are otherwise not financially able to do so.
As for myself, I hope I might be an inspiration for other young women sailors, more so than a pioneer per se, as I have done a lot of coaching on a local and provincial level.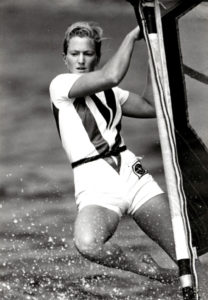 What are your thoughts about the place of women in sailing?
I think we were slow off the blocks, honestly as a country, to recognize that the physicality of, not the capacity of women, was something that was getting in the way of women‰Ûªs participation in the sport. Since the time I first started doing women's sailing, the sport has really developed and I'm so excited about the women who were just down at the Olympics, like Mariah Millen and Ali ten Hove, both daughters of old friends and Olympic competitors themselves, John Millen and Martin ten Hove, who I grew up with. I greatly admire their kids, Ali and Mariah. Their rigorous dedication to international training and competing agendas, especially in the last few years, has been incredibly demanding and inspiring. This is a really great sign, and I think this is true for many women sailors.
What did you do following your career as an athlete?
After the 1984 Games, I moved to England with my fianc̩ where I taught sailing. I also became a freelance journalist for The Canadian Press in London. Returning to Canada, I went back to school to get my teaching degree and over the next years of teaching, we welcomed three wonderful children. My career took a turn after an injury I had, and I got introduced to a branch of osteopathy, a kind of physical therapy called craniosacral therapy (CST). I was absolutely astounded at its effectiveness and decided to train and eventually became a CST practitioner. I love my work, which has left me as a perennial student of this amazing work that now spans 25 years!
Do you still have time to go windsurfing or sailing?
Absolutely. I am not coaching or doing clinics anymore. I have been racing with Joanna Kidd (sister of the stellar sailors Hughie and Jaimie Kidd) for the last nine years minus some COVID-19 time. I have recently bought a Laser from a young fellow who was upgrading his to vye for a chance to go to the Youth World Championships. Lasers have always been one of my favourite boats and I intend to race mine next summer in the weekly series at the Toronto harbour. And of course, we will continue to enjoy our family sailboat – a Shark.