Isabella Bertold launched her Next Gen Legacy Fund in January. "On Deck" discussion with the former National Team member from Vancouver, BC.
Congratulations on this initiative! How did this idea come to you?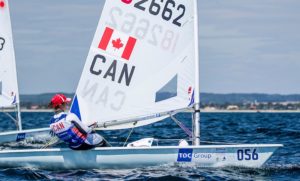 I guess the idea had been a long time in the making. I have been sailing since the age of five and from that small start in Optis, I‰Ûªve had mentors and supporters along the way. I am grateful for all of the people who unselfishly helped me. And I think that‰Ûªs one of the biggest lessons I‰Ûªve learned from all of those generous people, that there is so much value in giving back, obviously for those who are getting the help, but also for those doing the giving.
What is the objective of the Legacy Fund?
The objective is to increase high performance sailing opportunities for youth sailors in BC.
How will it work and who can apply?
The Fund supports athletes in two ways. First, by committing to BC Provincial training camps for both single-handed and double-handed sailing. Putting on a camp requires long-term planning and, with this funding, BC Sailing will be able to organize them with confidence. Second, by funding travel grants for individual sailors so they can attend out-of-province regattas. The grants will be awarded by application and we expect to put a call out for applicants in mid-April.
You have a Bachelor‰Ûªs Degree in Finance/Management from the Sauder School of Business. Will you be involved in the management of the Legacy Fund?
Yes, it‰Ûªs been a pleasure to work with BC Sailing on developing the funding formula and I look forward to having a hand in the development of the next generation of high-performance sailors.
What is your fondest memory as a National Team athlete who sailed in Laser Radial?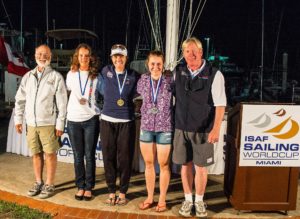 I raced on the National Team for 17 years and there have been so many good times that it‰Ûªs hard to pick just one or two.
My first ISAF Youth Worlds in Kingston were really special. I still remember giggling every time Ken Dool tossed our dry bags down from what looked like a giant pirate ship.
Of course, I‰Ûªll always remember milestones like winning my first World Cup medal in Miami and then medalling again at the former 2008 Olympic venue in Qingdao. My final World Cup regatta in Genoa, Italy, was bittersweet because I knew I was leaving the Laser fleet while still winning multiple races.
But just as memorable are all of the off-the-water moments, like doing Zumba in a shed with training partners in Weymouth, England, or having a cab driver accidentally drive me and my coach Kevin Black through a rice field in the middle of the night on our way to the Worlds in Rizhao, China; or attempting to visit all of Tokyo in 12 hours.
I honestly can‰Ûªt pick one single memory, but the good times certainly outnumber the tough moments.
In April 2013, you were ranked second in the world in Laser Radial. Unfortunately, you did not qualify for the 2016 Olympic Games. What are your thoughts on this Olympic quadrennial?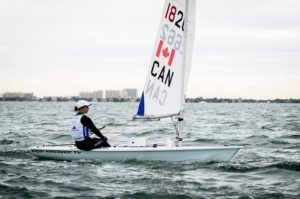 It's hard for an athlete to not set the Olympics as a goal. People understand the Olympic brand and it‰Ûªs seen as the pinnacle of performance. But I‰Ûªve learned that it‰Ûªs healthy to measure results on my own terms. For example, I was personally far more driven to win a World Championship. In Olympic sailing, only one person per country qualifies for the Games, and that means that many of the world‰Ûªs top sailors are not racing at the Olympic Games. So winning a World Championship against all of the world‰Ûªs best was my greater goal.
That said, I narrowly missed qualifying for the 2008 Olympics at age 17. I was so naive at the time that I really didn‰Ûªt understand what the trials were.
During the 2012 Olympic trials, I was arguably racing at a very high level, only to suffer a concussion in the second event.
And then there was the 2016 quadrennial. Leading up to the Games, I had a lot of success. In all of the World Cup regattas in 2013, my worst finish was 8th place. In 2014, I strung together many top 10 results. And yet I didn‰Ûªt actually get to the Games. That Olympic quadrennial is not something I have spoken much about. My training program had many obstacles and, throughout those four years, I was plagued with injuries that ultimately ended my Laser sailing.
Mental health was not openly spoken about at that time and I wanted to appear strong, composed, certainly not vulnerable. My reality was very different. By the time I reached the midway point of the 2015 season, my goal shifted to simply trying to enjoy the sport of sailing again, essentially to have fun. I am very grateful that my coach Al Clark helped me work through those dark times, and together we saw through that Olympic cycle. We won my second World Cup medal and I continued racing well into 2019 while also balancing road cycling at an elite level.
I am glad that I left Laser Radial sailing just as much in love with it as I was at the time of my first regatta, way back when I was 13 years old.
How has financial support helped you over your athletic career?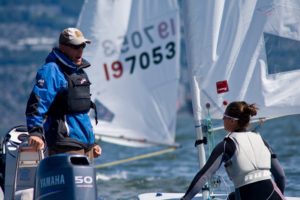 I was raised by a single mother and our family‰Ûªs financial situation meant that my sailing was always subsidized by donors and organizations. Without outside financial support, I never would have accomplished all that I did.
What would be your best advice to young athletes?
It‰Ûªs a lot of work, but remember why you fell in love with the sport. It is so easy to get trapped into a high-performance mindset that takes the fun out of what you are doing.
What do you do now for a living?
As an athlete, I learned how to thrive while multitasking, maintaining a training program while keeping up with school — and I guess I never really stopped multitasking! Currently, I‰Ûªm active in the financial management space, with some startups, and with a few other projects on the go. All of my work ties sustainability, finance and technology together. I also bicycle race at a professional level and manage the women's professional cycling team, InstaFund Racing.
Do you still sail?
Yes! In fact, I am super excited to be back racing after taking a bit of a break. I‰Ûªll be at more regattas this year, but likely not on a Laser. Lately, I've really enjoyed dabbling in other classes like the J/70, and this past fall I ventured into foiling boats. Foiling is my new passion. I certainly have the need for speed, so you'll see me racing a Waszp, and I‰Ûªve also set a goal of racing the Moth worlds later this year.