Antonia and Georgia Lewin-LaFrance won the bronze medal at the 2021 49er FX European Championships held in Thessaloniki, Greece, on September 19, 2021. ‰ÛÏOn Deck‰Û conversation with the sailors from Nova Scotia.
It's your first medal at a major international competition. How does it feel?
It obviously feels fantastic to be on the podium. It‰Ûªs a sensational moment and having the Canadian flag raised at the awards ceremony is a significant thing.
This medal is a positive reinforcement – a pat on the back if you will. It means that we‰Ûªre headed in a good direction. But in the grand scheme, it does not change much for us in terms of our work ethic. We‰Ûªll continue to work equally as hard as we did before.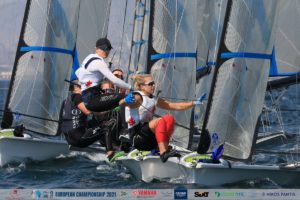 Through the competition, you were 13th, 6th, 10th, 9th and finally, 4th before the medal race. Did you change anything through the competition?
We got a black flag on the final race of day 3 and we deserved it. On the first race of day 4, we fought hard for the pin spot on the line. We had a general recall then the next start was under black. Again, we fought for the pin end and executed the start we wanted. The start was general recalled and the race committee posted our sail number as one of the numbers over. We therefore had to sit and watch the first race happen as we weren‰Ûªt allowed to race it. We didn‰Ûªt think we‰Ûªd gone over the line and therefore felt disappointed that we had. We came back with a first and a fifth positions for the next two races of the day. We got in at sunset and were home around 8 pm. We watched footage of the start and felt that we were unfairly called over the line. We decided to protest it and the race committee immediately said that they thought they made a mistake and gave us redress for the race. This was a good outcome of a challenging situation. We really appreciated the honesty from the race officials. Therefore, the overall scores were slightly off.
How did you feel when you were 4th, before the medal race?
We felt that we‰Ûªd already achieved our goals and success. We also felt like we had an opportunity to move up in the standings as the points were really close.
And then, at the medal race, you finished 3rd to win the bronze medal. Can you talk about this race?
Our goal was to sail the race normally – keep focusing on the process goals we were working on. We made a race plan based on the weather and race course characteristics. The conditions were unstable and changing as we started in 10-12 knots and finished in 4-6 knots (and a medal race is only 20 minutes long). Therefore, once we were leading the boats we needed to beat to be on the podium, we made sure to sail conservatively to maintain our standing.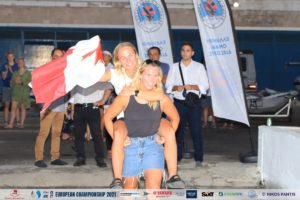 How did you feel when you realized you won the bronze medal?
I (Antonia) felt like time slowed down. Before launching for the medal race, we decided that we would race it like any other race (no extra weird boat-on-boat tactics). That being said, I was nervous. Medal races are usually close to land, they‰Ûªre shorter, and they have their own section in the rule book. I honestly had to do a little breathing session with myself to prepare for it. Most of the race was light and choppy, which means that boat handling is very difficult. The bow could dig into a wave upwind, and your boat speed goes to zero. When we crossed the finish line, time slowed down for me. I lazily doused the kite and Georgia said ‰ÛÏAntonia, I‰Ûªm pretty sure we just got bronze‰Û. We sat on the coach boat for a while with Krys (our coach), and then we chill-sailed back to shore. We didn‰Ûªt rush to take our boat apart for container loading. It was golden hour for sunlight and neither of us felt any sort of rush to get packed up. It‰Ûªs like we were both thinking "ok, we won bronze and it‰Ûªs been a very long regatta. We‰Ûªre exhausted, salty, happy, and we‰Ûªre in paradise. We‰Ûªre not rushing this time."
Overall, how was this competition in term of conditions?
Majority of the races were in light wind (under 7 knots). We sailed on 4 different race course areas during the 6 days which was a fun learning opportunity.
What's next for you?
We‰Ûªll be training in the 2022 World Championship waters at home in October with some other Canadian teams then heading to Oman for the 2021 World Championships in November.
Anything else to add?
We couldn‰Ûªt have done it without the dedication and hard work of our coach, Krys. Thank you so much!