Antonia and Georgia Lewin-LaFrance took 6th spot overall at the 2021 49er FX Sailing World Championships in Oman, posting the best Canadian performance ever at that competition. "On Deck" discussion with the sailors from Nova Scotia.
Photos: Sailing Energy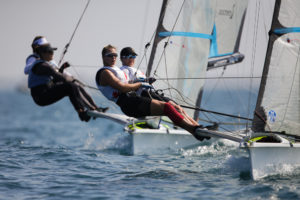 Congratulations on your 6th position at the 2021 49er FX Sailing World Championships. How do you feel about your performance?
Overall, we‰Ûªre happy with our performance. We feel like we did ourselves and Canada proud.
Are you satisfied with your medal race?
We‰Ûªre more than OK with the medal race. When we crossed the finish line, we felt like we knew what our biggest mistakes had been in that race. We had plenty of tough races during the event, and we certainly didn‰Ûªt sail out to the medal race thinking we‰Ûªd pull a wind-bender strategy out of our heads. So at the end of the day, we‰Ûªll put that learning experience in our back pocket and feel good about the overall regatta.
And how did your week of competition go?
It was another marathon of an event: six days of racing, three races a day for the first five days, and then one fleet race and the medal race on Day 6. That‰Ûªs a long event in really, really hot weather and a strong sun. That being said, we had specific goals to work on throughout the week, and we think that contributed to the consistency of our scores. It helped us stay on track after a deep score, for example. Racing against some of the most decorated teams in the fleet makes for an incredible environment. We felt really honoured to be there and to be able to learn from everyone.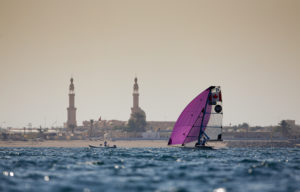 In 2020, you finished in 39th position. How do you explain such an improvement from one year to the next in terms of results?
There was this weird feeling, when we finished the regatta, that we were like babies at the previous one. At the 2020 Worlds, we were a super fresh team. Since then, we‰Ûªve earned a few stripes. We trained super hard during the lockdown, and also after that in Europe at the beginning of 2021. We sailed in crazier conditions, made a whole bunch of friends in the fleet, and we spent a great deal of time learning how to be professional athletes. This is what made us jump from 39th to 6th.
You posted the best Canadian performance ever at these 49er FX World Championships. How do you feel about that?
Above all, we feel grateful and inspired. We have so many people to thank for this. This regatta was particularly over-the-top expensive to attend. So thank you to everyone who got us here. Thank you to Ryan and Andrew Wood (alias ‰ÛÏThe Choppers‰Û) for being phenomenal teammates, and thank you to Ken for your huge support. Finally, thank you to Krys for everything you do.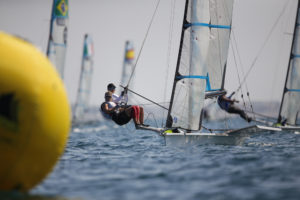 Over the past few months, you took the 6th spot at the 49er FX World Championships and won the bronze medal at the 49er FX European Championships. How important are these results as part of your development?
Again, just like in Greece, a nice result is a pat on the back, or a nod of confidence to our work ethic. All sailors know that behind the score sheet lies a vast amount of ‰ÛÏstuff‰Û. Based on this year‰Ûªs results, we‰Ûªll adjust our goals and keep on trekking towards the Olympic podium.
What's next for you?
Time off. It‰Ûªs been a big year and we‰Ûªll take December off to spend time with friends and family. After that, the next big regatta on our hit list will be the Princess Sofia Regatta next April.