Ali ten Hove and Mariah Millen have recently spent a week training at the 2024 Olympic Games Sailing venue in Marseille, France. "On Deck" discussion with the sailors from Ontario.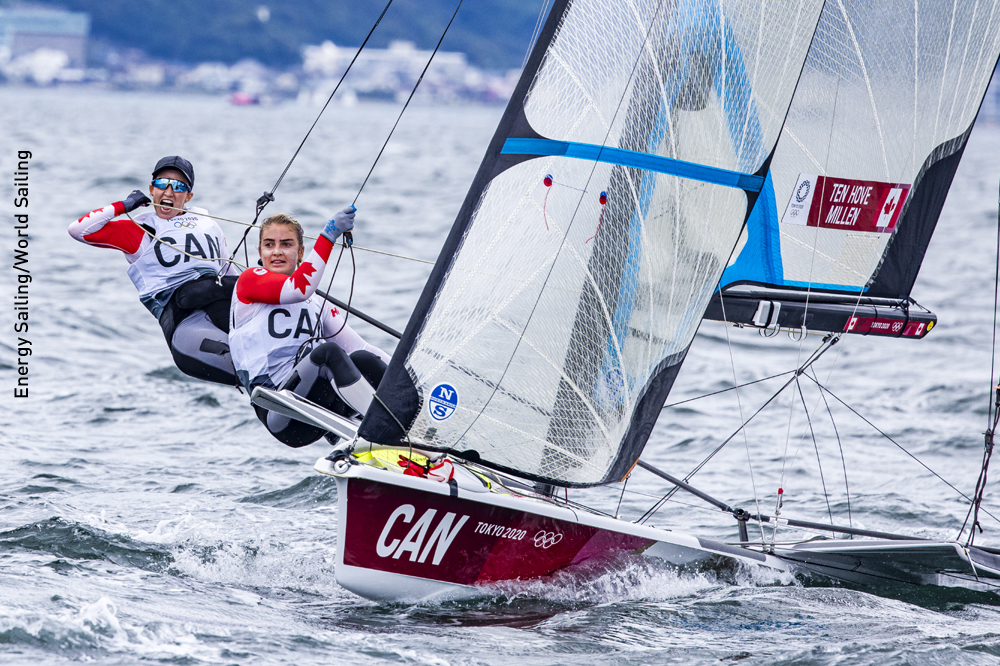 How important was this training camp in Marseille for your preparation?
Ali: It is important in the sport of sailing to start learning the venue. Each venue we sail has different wind, current and geographical features that affect our race course. It was great to race in Marseille and to start to learn the area!
We were also training with a great group of top 49er FX teams, which fostered a competitive environment for us to measure our skills against some of the best in the world.
Aside from a little bit of French, what did you learn on the Marseille waters?
Mariah: Over an Olympic cycle, many teams from around the world head to the Olympic Venue to gather info and data. Having detailed notes about the venue gives most sailors peace of mind and helps them feel prepared for what the racing might be like during the Olympic Games. We took a ton of notes about what type of conditions we had over the 10 days of training there and we hope to build up our notes over the next two years.
Is there any knowledge that you have acquired in Marseille that you will be able to apply in your upcoming competitions?
Ali: In Marseille, we worked a lot on our light air setup and technique. We banked a lot of key learnings in this area that we will indeed take into our future competitions!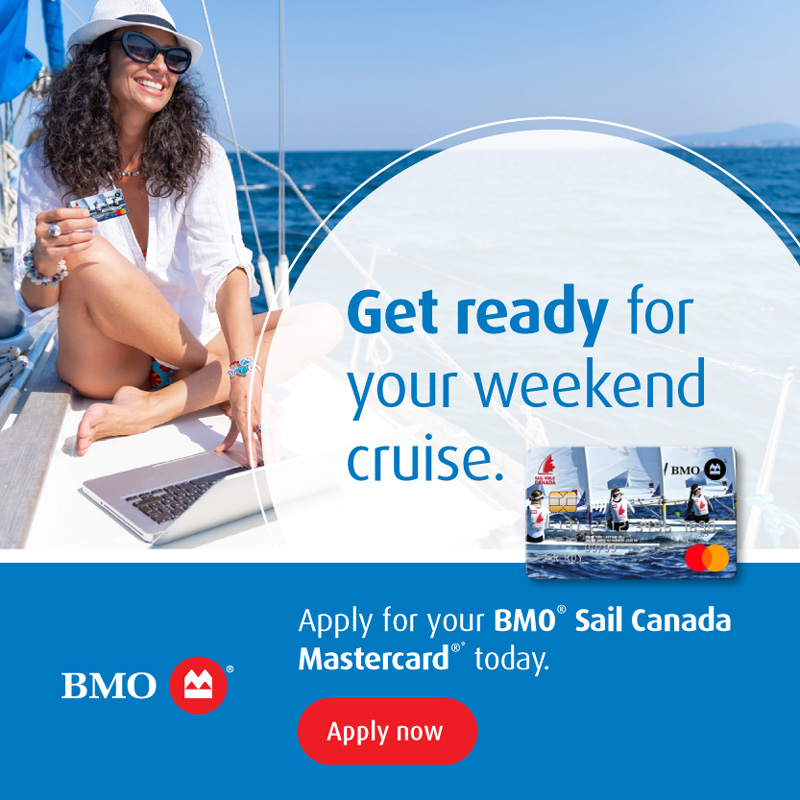 How motivating was it to train at the 2024 Olympic Games Sailing venue?
Mariah: It was incredibly motivating! While we were there, some of the top teams in the FX class were also training, so it was a competitive camp where we learned a ton. Ali and I laughed at the fact that we knew it was motivating because we sailed 10 days straight without any days off. Nous travaillons lentement sur notre fran̤ais, revenez nous voir en 2024!
You respectively finished in 29th and 11th place at the World Sailing Hempel World Cup and at the French Olympic Week competition. What do you take away from those results?
Ali: Both regattas and results provided us with invaluable learning! We are focused on the process and ‰Û÷putting the pieces together‰Ûª. We are confident that when we do this, the results will follow. We are seeing promising progress within our team and that will remain our focus.
You took 16th place at the Tokyo 2020 Olympic Games. What do you take away from that result?
Mariah: Going into our first Olympics, we wanted to keep our expectations low and do the best that we could. Of course, we were hoping to finish better, but walking away from the Olympics with a 16th-place result, given our circumstances prior to the Games, has been a huge motivator to push harder in this cycle and to try something new.
Following the Tokyo 2020 Olympic Games, how did you find motivation to go into another Olympic cycle heading towards Paris 2024?
Ali: The lead-up to the Tokyo Olympics was challenging for our team. We were riddled with illness and injury. We came away from the Games with a feeling of unfinished business. We are extremely confident with our team‰Ûªs work ethic, drive, and skill set and we feel that we just need to put the pieces together.
This Olympic cycle, we are simply focused on becoming the best sailors we can be. Our ultimate goal is to win Canada an Olympic medal in 2024, but we are focused on the process and on improving each day. We want to set our own definition for success and are motivated each day to keep our learning curve steep. We feel extremely lucky and blessed to have the opportunity to do what we love and to pursue excellence each day.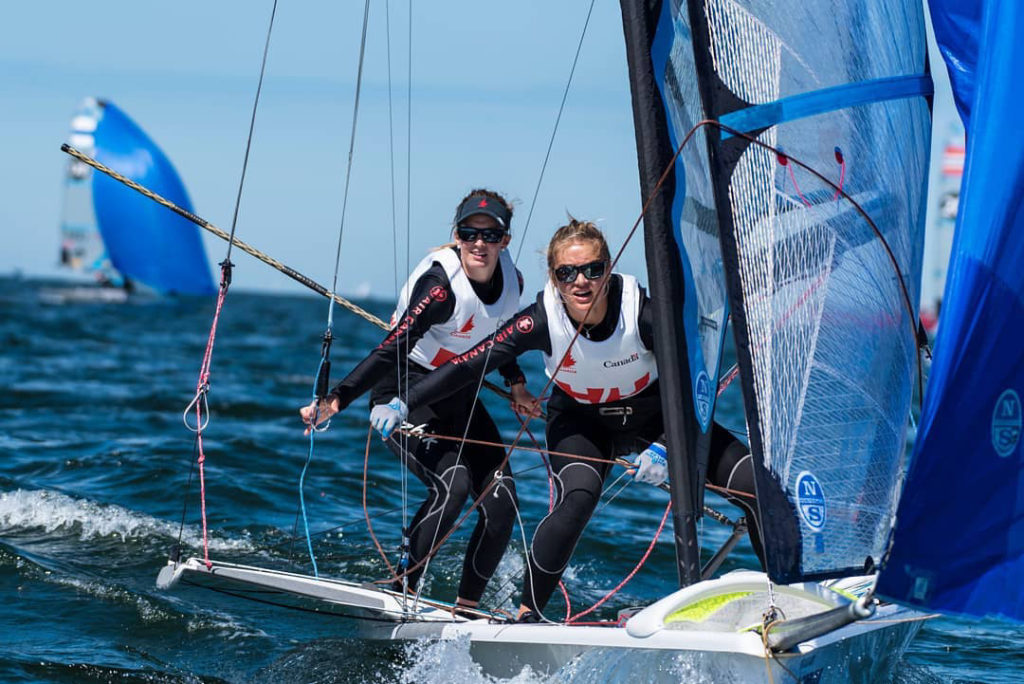 There is a nice battle to be the best Canadian squad between you and the Lewin-LaFrance team. What‰Ûªs your take on this friendly rivalry?
Ali: We both have our individual team goals and from our team‰Ûªs perspective, we are simply focused on becoming the best sailors we can be. Our goals are not limited to qualifying for a single event and ultimately, we celebrate the success of all Canadian sailors!
What are you working on more specifically right now?
Mariah: Right now, Ali and I are using our time at home to focus on our fitness and health. We were away from Canada from the beginning of January until the end of May. Being on the road for such an extensive period of time can be taxing on our bodies. You can‰Ûªt always count on gym equipment or the help you need at each new location. Before we head off to Europe in June, we are spending time building strength and charging our batteries in preparation for the events to come.
What's ahead for you looking towards the next few months?
Mariah: In June, we will be heading to Kiel, Germany, for a team camp and the Kieler Woche Regatta. We have a tight turnaround to Aarhus, Denmark, for the European Championships. After that, we head back to Canada to start preparing for the World Championships in Nova Scotia.