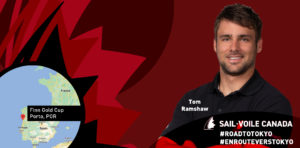 Set to kick off Saturday in Portugal, this competition will be his last major event before the Olympic Games
Kingston, May 6, 2021 ‰ÛÒ Less than three months before the opening of the Olympic Games, Canadian Sailor Tom Ramshaw will test himself against the world's best in his last major international event before Tokyo 2020 by taking part in the 2021 Finn World Cup in Porto, POR, starting Saturday.
At his previous competition a month ago at the Finn European Championships in Vilamoura, POR, the athlete from Toronto took the 10th position overall.
More than 60 sailors are set to face each other in these annual World Championships for the Finn class, including the gold medalist at the 2016 Olympic Games Giles Scott from Great Britain, as well as 2019 Finn Gold Cup silver and bronze medalists Nicholas Heiner from the Netherlands and Zsombor Berecz from Hungary. The 2020 Finn Gold Cup was cancelled due to the pandemic.
‰ÛÏI'm excited to compete again in the Finn Gold Cup, especially after the 2020 Gold Cup was cancelled and considering there have been so few major regattas over the last 12 months,‰Û said Tom Ramshaw. ‰ÛÏAt the last two Gold Cups, I managed to come up with solid top 10 performances (5th and 8th) and I'm looking to do the same this year, so I will give it my best shot to get on the podium. This will be the final major regatta before the Olympics so it would be great to have a good event and go into the Olympics with some extra confidence. This will also be the last Finn Gold Cup sailed with the Finn being an Olympic event, after 70 years of Olympic status. It would be great to finish with a top result for Canada in such a historic class.‰Û
Fans will be able to follow the daily performances of the Canadian team via Sail Canada social media at:
Facebook: www.facebook.com/SailCanada
Instagram: www.instagram.com/sail_canada
Twitter: www.twitter.com/SailCanada
Tom Ramshaw is part of the 9-member team that has been nominated to represent Canada in sailing at the Tokyo 2020 Olympic Games, slated for July 23rd to August 8th, 2021. More details at: https://www.sailing.ca/events/2020-olympic-games.
About Sail Canada
Established in 1931, Sail Canada is the national governing body for the sport of sailing in the country. Sail Canada is a leading international sailing nation, proud of its world class athletes, lifelong participants and inclusive culture. The organization and its members are committed to excellence by developing and training its leaders, athletes, sailors, instructors, coaches and officials. With the valued support from our partners, the Provincial Sailing Associations and our member clubs, schools, organizations and stakeholders, sailing is promoted in all its forms. By setting standards and delivering programs from home pond to podium for Canadians of all ages and abilities, from dinghies to keelboats, cruising to navigation, windsurfing to powerboating and accessible sailing, Sail Canada sets sail for all, sail to win and sail for life.
A sport in the Olympic program since the first Games in 1896, except in 1904, the pursuit of success in these Games is what fuels the focus of Sail Canada as Canadian athletes have so far achieved nine Olympic and five Paralympic medals.