Support Sailing in Canada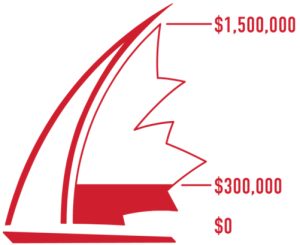 Reach for Excellence is a National Fundraising program that supports our sailing community at all levels. From CANSail to High Performance, help us fill the sail to support sailors on their journey!
Sail Canada is also very committed to supporting Athletes on their reach for excellence journey in pursuit of success from home pond to podium. Our Athletes aim to inspire the next generation of Sailors with a determination to compete at National and International levels while demonstrating a sense of national pride to the world. Together, we can provide a World Class Performance Program that supports 75-100 Athletes per year through tangible investments in people, equipment, and performance science.
When we support our Athletes, we rise as a nation and can collectively set sail to win while sustaining sailing for life within our community.