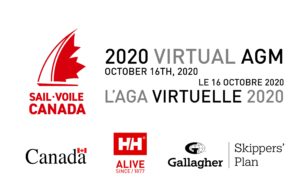 It is with pleasure that we invite all members in good standing to the 2020 Sail Canada Annual General Meeting (AGM).
The AGM will be held virtually on Friday, October 16, 2020 at 5:00pm EDT. The AGM will be conducted using GoToWebinar in conjunction with ElectionBuddy running the election and motions. Virtual meeting access will be sent directly to all members in good standing, by email, by October 14, 2020.
Please take notice of the following purposes of the meeting that represent the draft agenda:
To receive and to approve the minutes of the Annual General Meeting of members held on October 18, 2019 in Montreal, QC.
To receive the Report of the Nominating Committee and to elect members to the Board of Directors
To receive the Annual Report
To receive the reports from the Provincial Sailing Associations
To consider and confirm the following Notice of Ordinary Resolution
a. To confirm By-laws as presented in Annex A; Bylaws (marked changes)
To receive the Report of the Audit Committee, to consider the audited financial statements for the year ended April 30, 2020; and to appoint the Association's auditors for the year ending April 30, 2021.
Consistent with Sail Canada Bylaw Section 3; Sail Canada members in good standing have the right to vote by proxy.  For a proxy to be valid, the completed 2020 Proxy Form must be received in the Sail Canada office by mail, email (sailcanada@sailing.ca) or fax (613-545-3045) no later than October 8th, 2020.
Documents and other supporting information related to the notice of meeting are available by clicking on the related hyperlinks.
Notice sent: September 25, 2020